Day 18. Today we made paper chains and easter cards, we used potatoes to make a bunny stamp and finished them with gold polka dots! Most of the afternoon was spent playing outside, we made a washi tape road for our Playmobil cars and Noah made another Mr. Men book! He can't get enough. For some unknown reason the images I took are not transporting from my SD card so instead I will post about one of our favourite Instagram accounts @leahlittlejolanandrudi Leah always inspires us with her creative play ideas for her two boys. Some of my recent favourites are pictured below. Not only are their ideas heaps of fun, they're a feast for the eyes captured in a nostalgic mix of pillar box reds, neutrals and vintage treasures!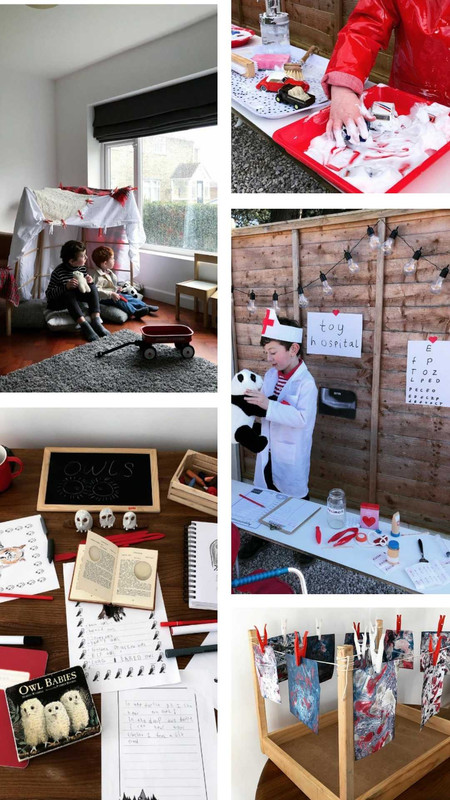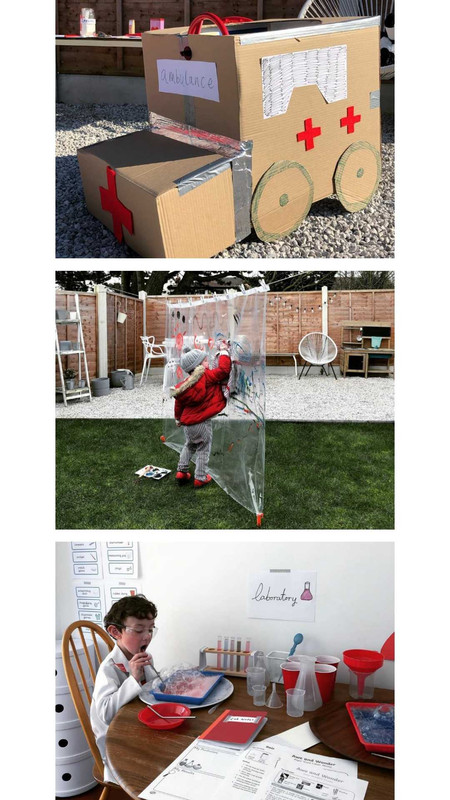 Follow Leah and her boys here : https://www.instagram.com/leahlittlejolanandrudi/
Day 17. Today we made the most of the warm weather and painted in the garden, we had saved up a few tin cans and had a go at making wind chimes from them.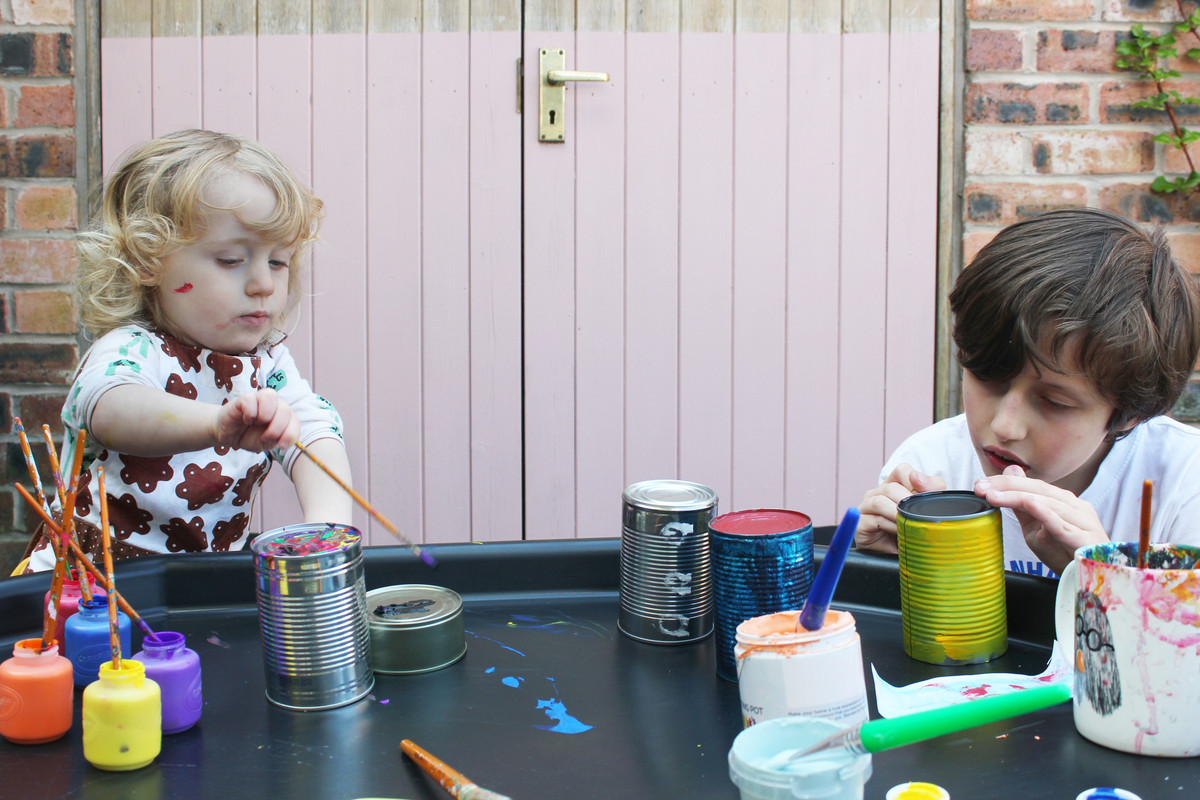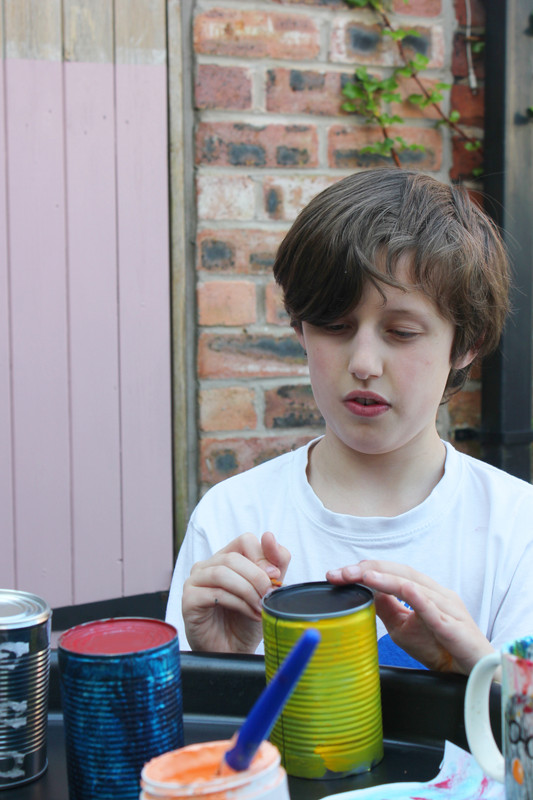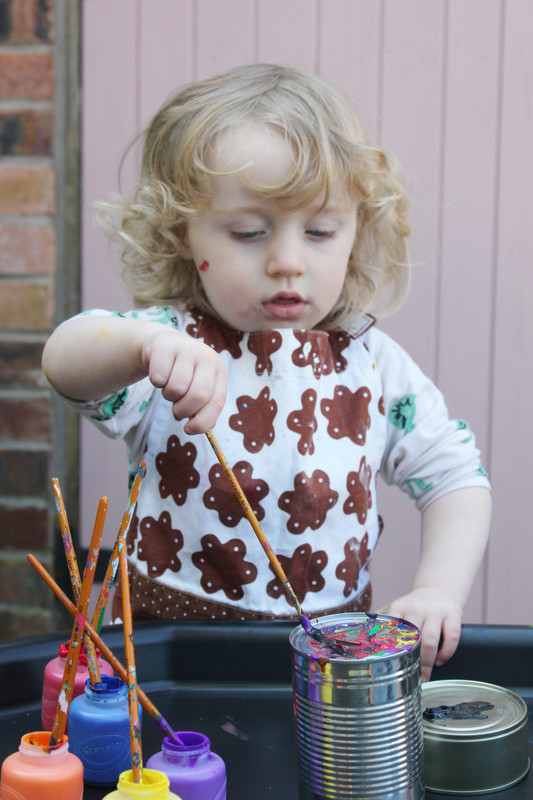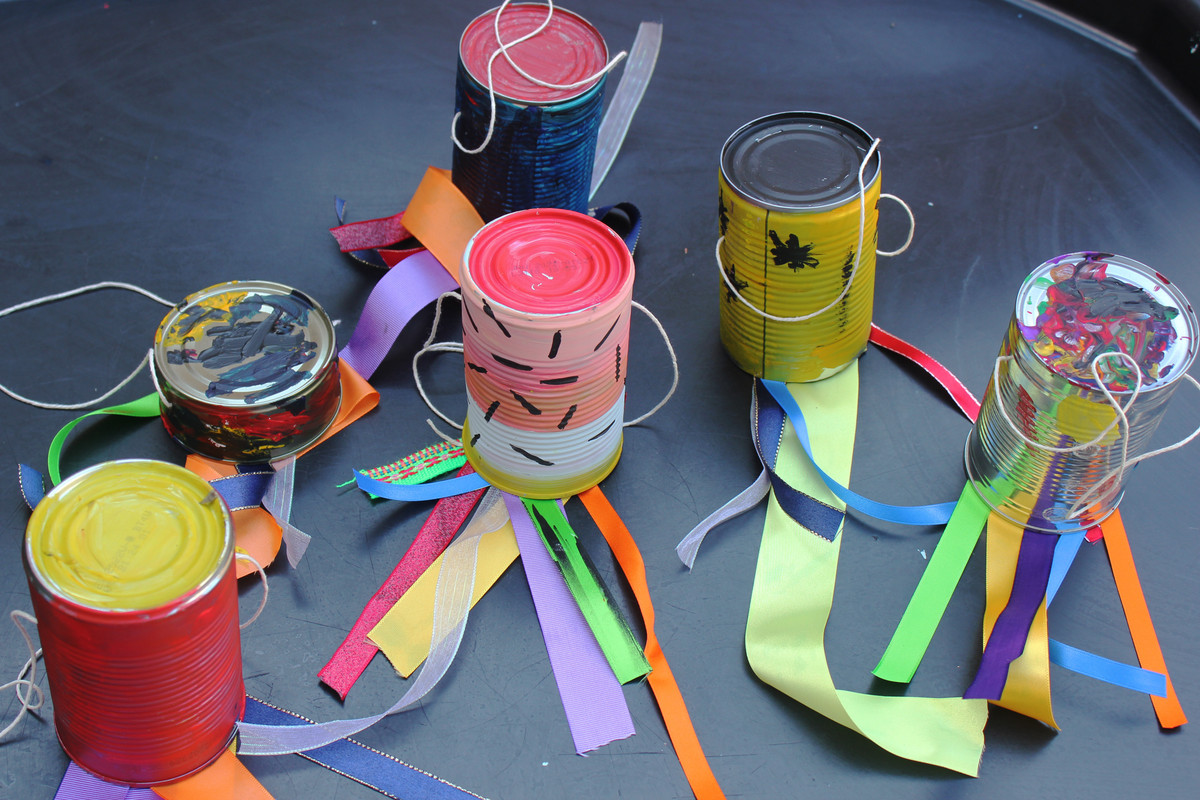 We added some ribbon to the inside of each can, then I knocked a nail in either side to pierce the holes for the string...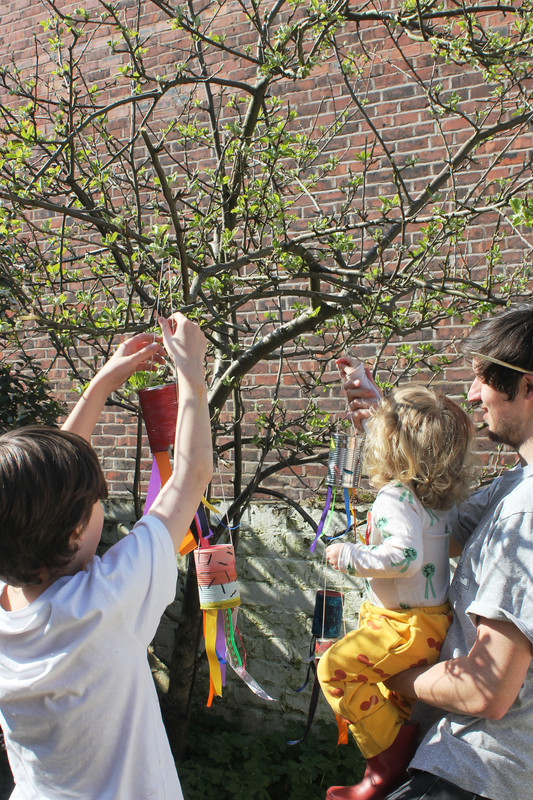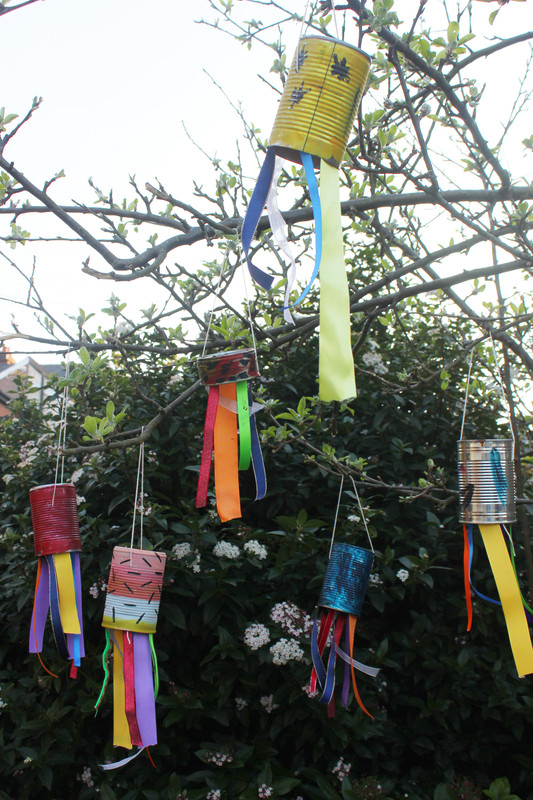 We love how they brighten up our garden!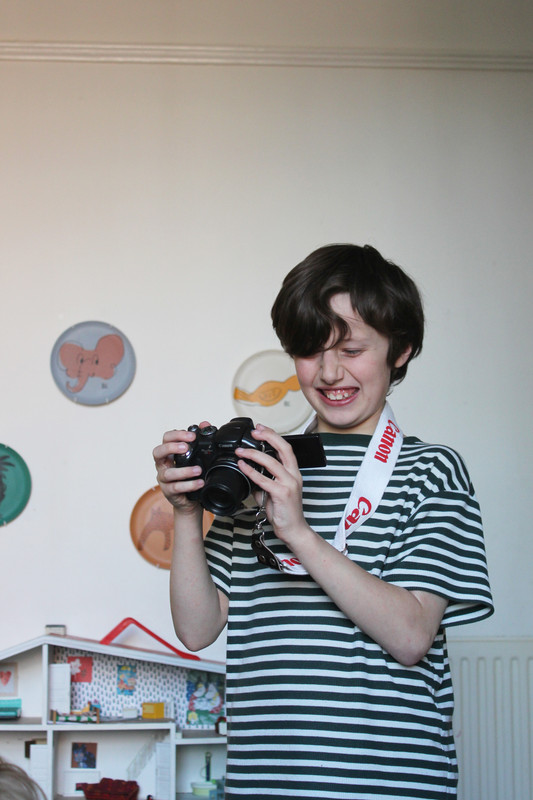 Noah dug out his camera that he got a few birthday's ago.. He's become a mini me with his picture taking, he loves to capture his family just like I do. (I just need to stop him taking those early morning shots of me, wowsa!)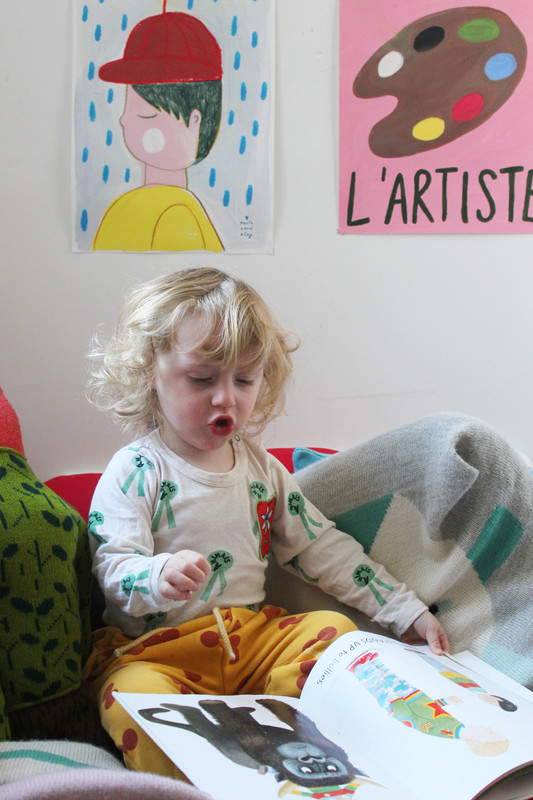 One of Manni's favourite books, My Brother. '..I'M COOL TOO!' we must have read it a dozen times today, it never gets old. For him anyway.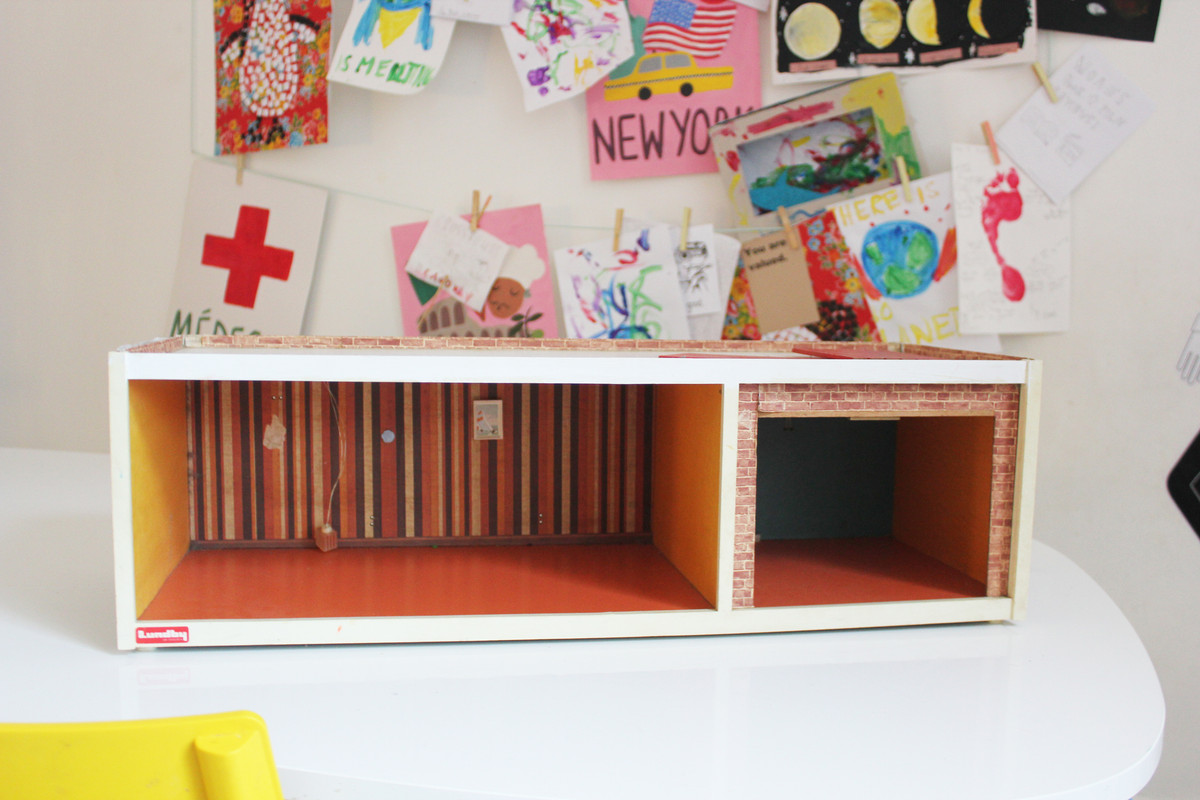 This Lundby basement extension has been at the back of my wardrobe for years so today we decided to renovate it! The boys have both loved playing with it over the past few days, Noah arranges all the furniture after Manni has turned it upside down with his crazy Playmobil parties!!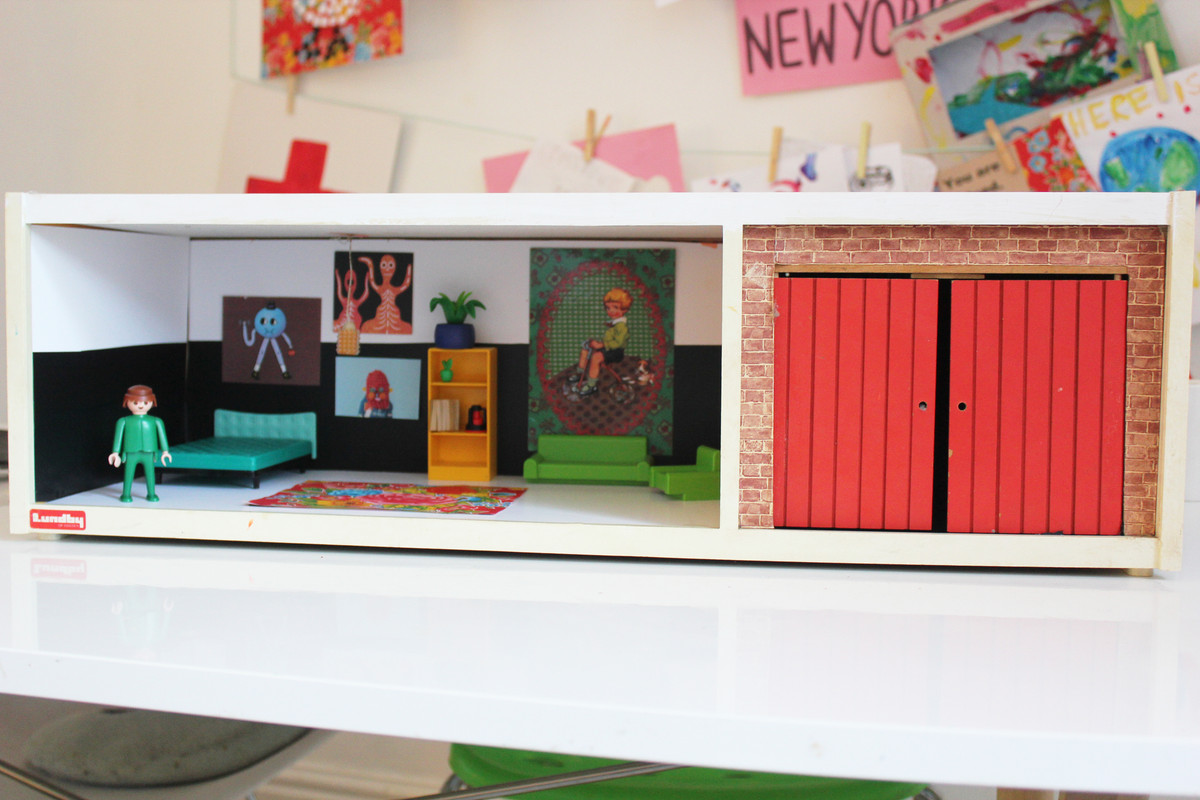 Voila! We used black vinyl and white card to quickly spruce up the walls and cut out some pictures from our old Bobo Choses magazines for the wall prints.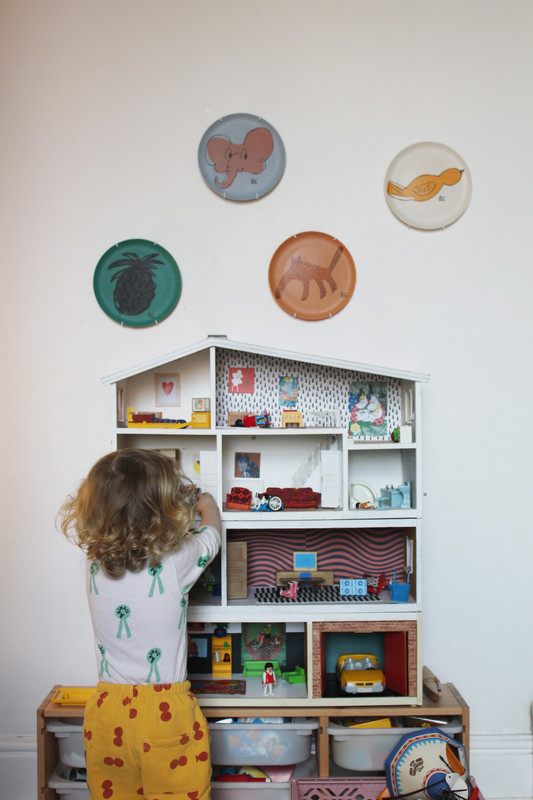 Day 16. We're going to spend the rest of the week doing Easter themed activities, today we made salt dough decorations which are super easy: 1 cup of plain flour, half a cup of water and half a cup of salt then bake on low heat for 3 hours.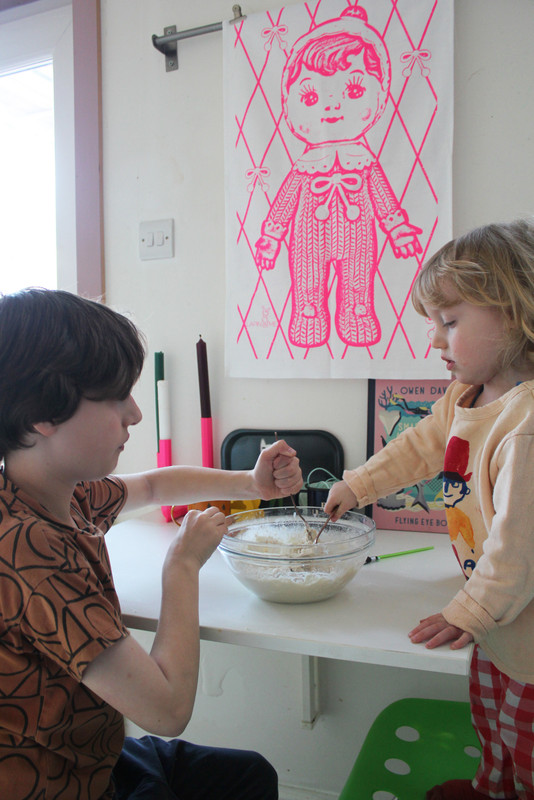 While we waited for them to bake, we decorated some eggs. Noah opted for Pokemon creations and Manni, well I'm not quite sure what he was going for.. it all got very messy!!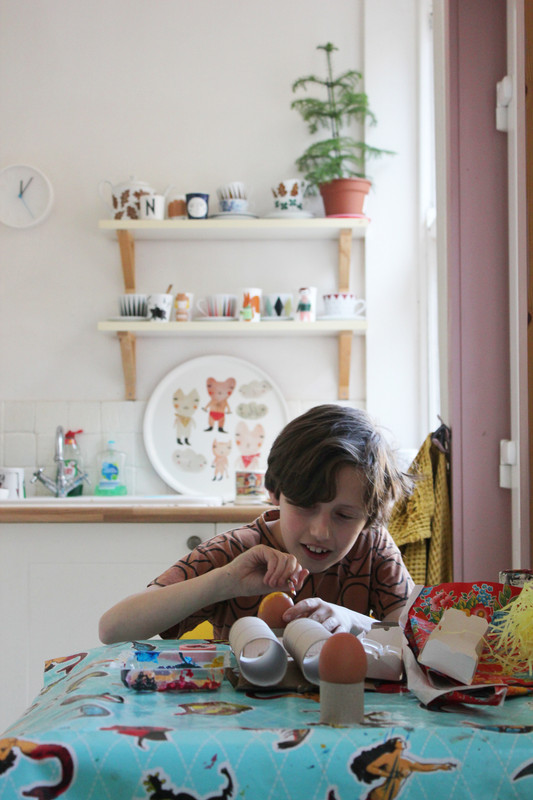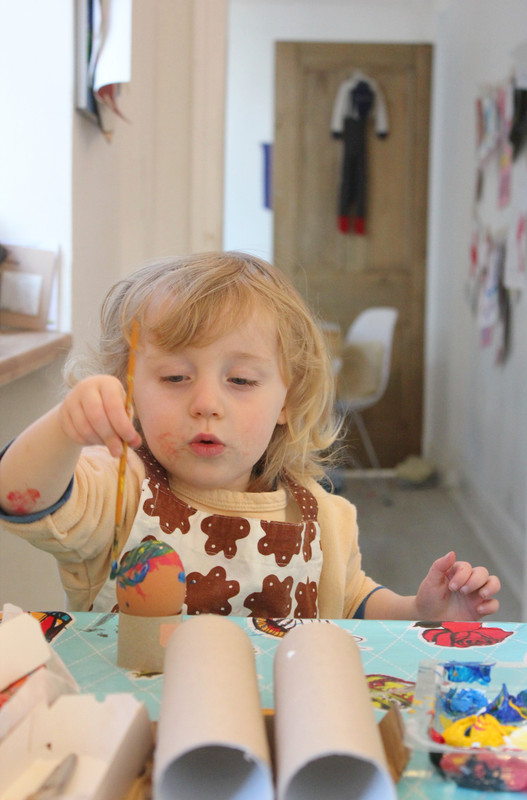 Three hours later...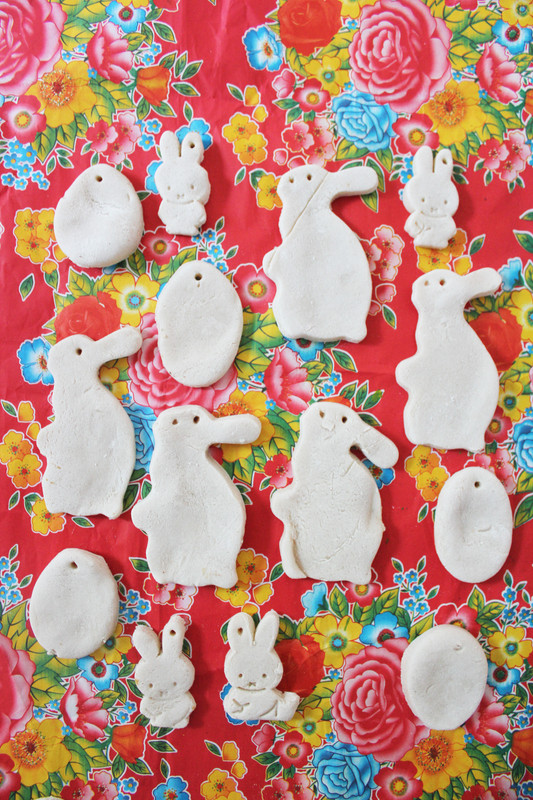 Time to decorate!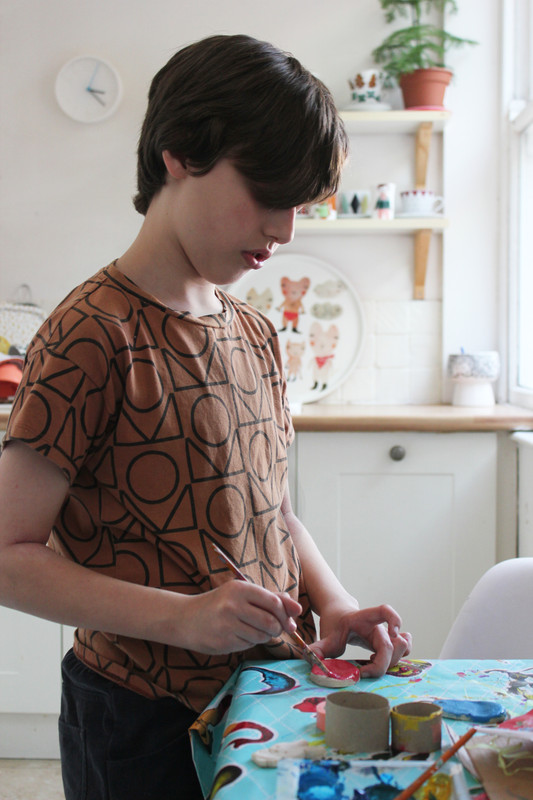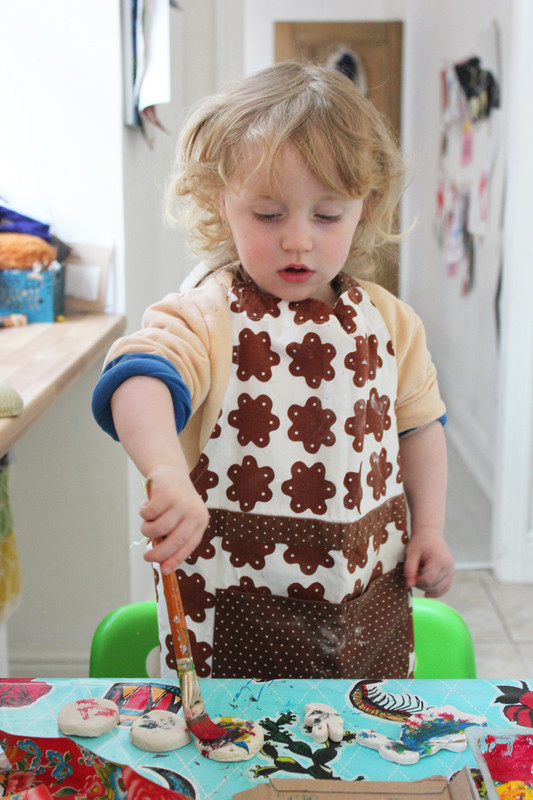 Hard at work :-)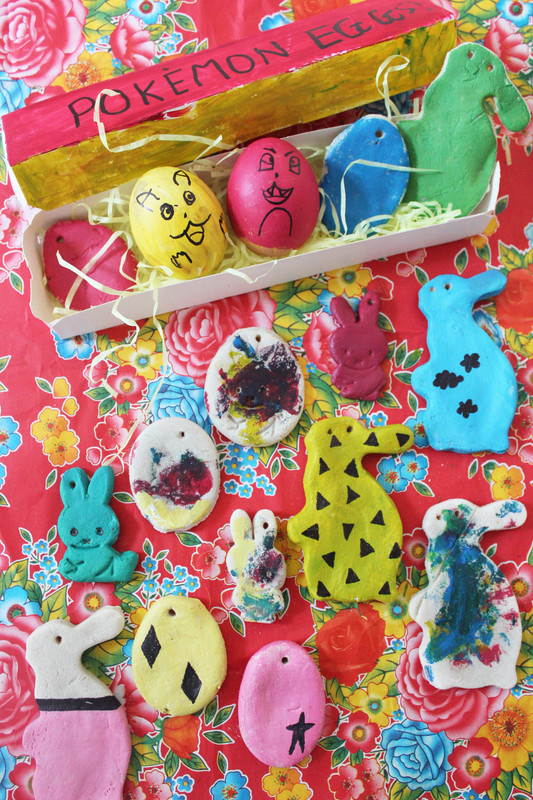 We gathered some branches from the garden to make our Easter tree!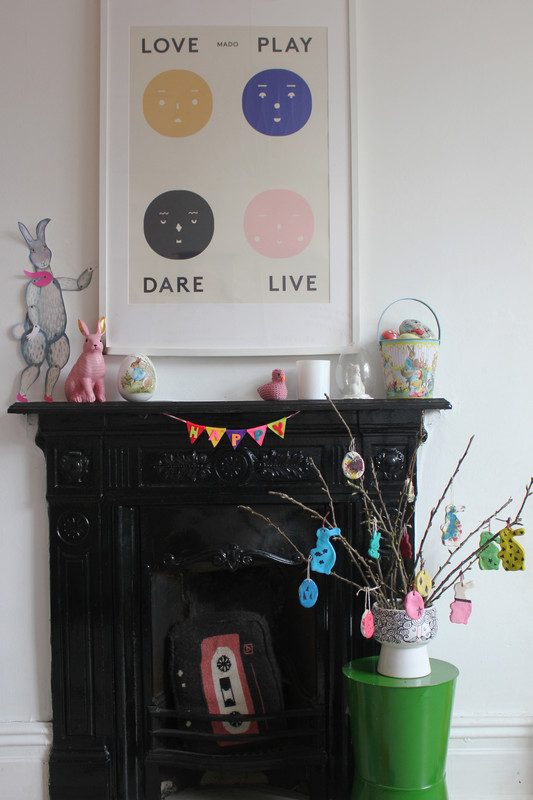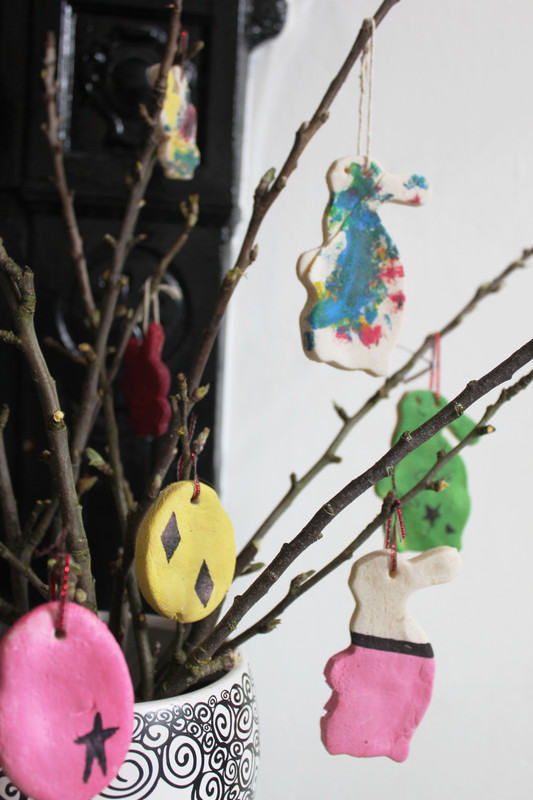 Day 15. We made an aquarium out of used cereal boxes today, our theme was the ocean. I've started to save bits and bobs instead of popping them into the recycling bin, we have a bunch of tins that we're going to turn into garden decorations this week. Noah has been getting stuck in with the crafts, something he hadn't been so crazy about pre pandemic which is partly down to me and family life being so hectic with school, work, football, piano, homework and fitting in family and friends. it's rare that we have all of this time together. If one good thing has come from this nightmare we are living, it's the slowing down and living in the moment. For us anyway, I realise that not all have been given that.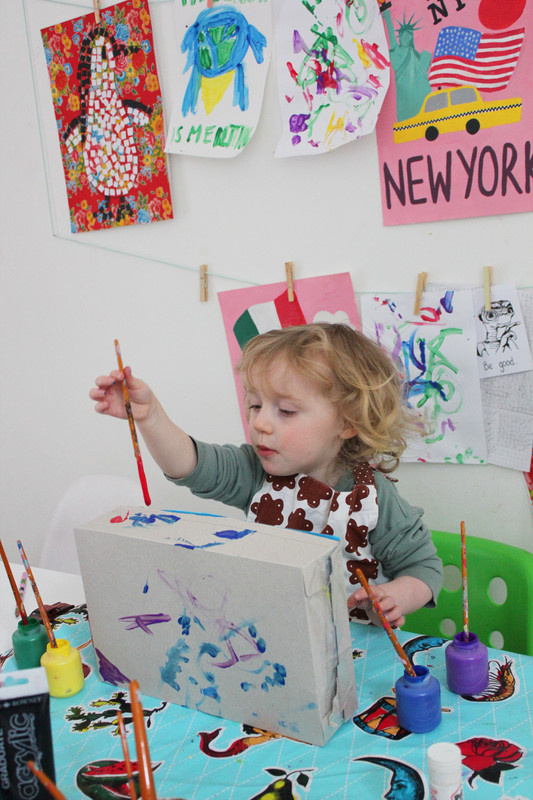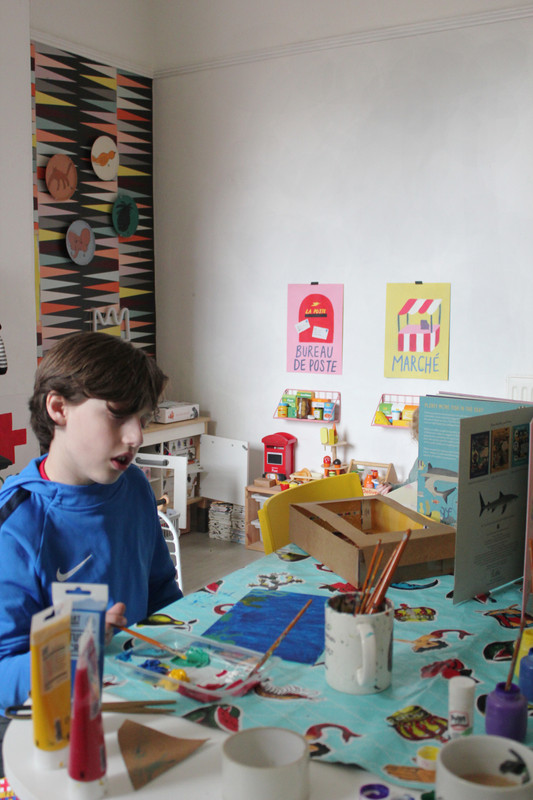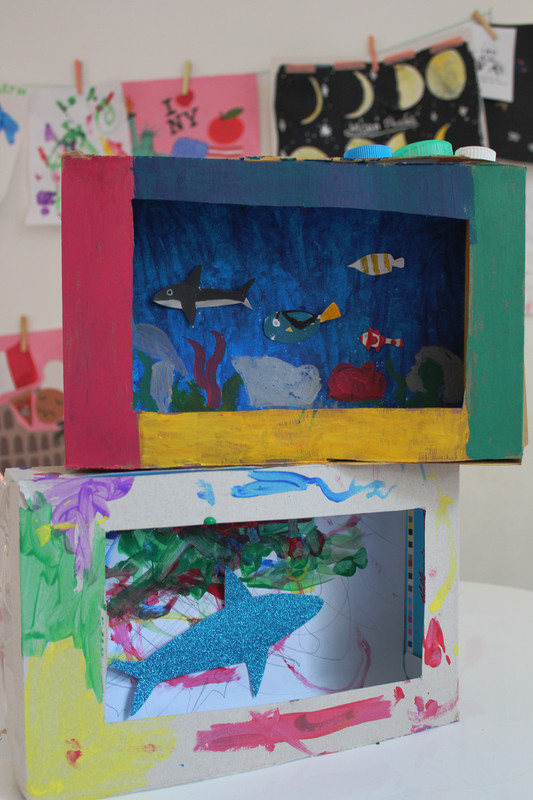 Manni wanted a 'Baby Shark' in his creation. He recently discovered the song after his cousins introduced it to him, he can't get enough. He knows all the actions and sings it really loudly. Very cute!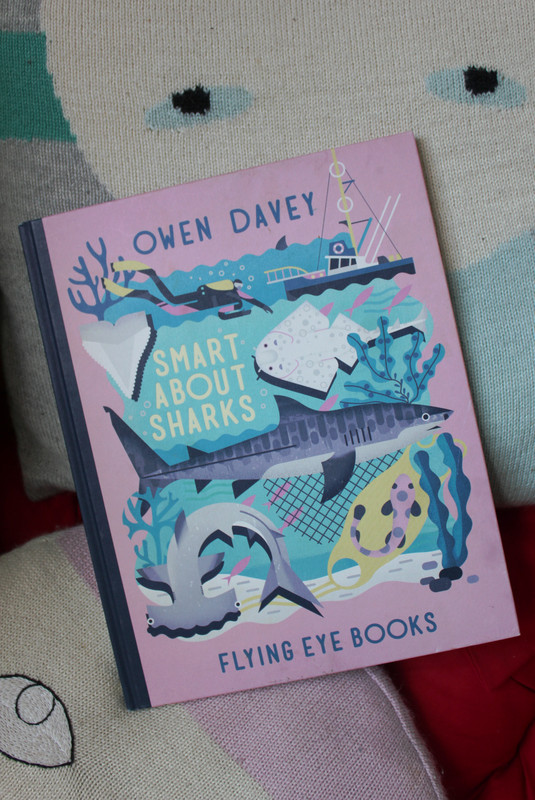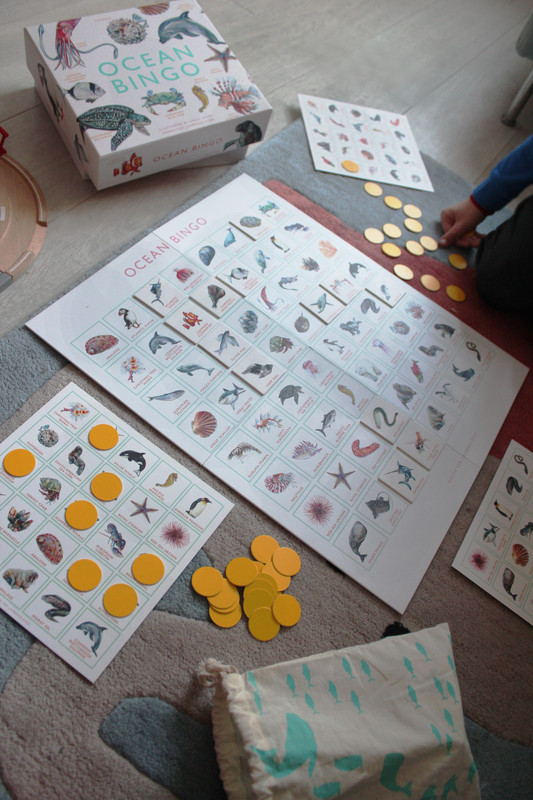 Ocean Bingo! We have a whole bunch of these games, they're our family favourite! Of course we have to wait for Manni to go to sleep as he constantly moves the counters, MUCH to Noah's annoyance. This one was found at Acorn & Pip.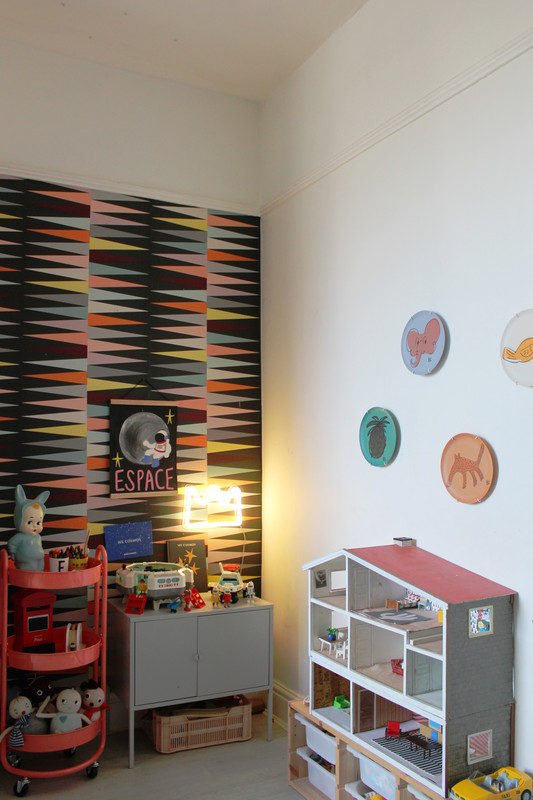 I managed to do a quick change around today. I thought we'd swap the home corner for all the space toys and also brought the Lundby dolls house down from Manni's room! It's like they're brand new again, I always recommend alternating toys around, we have a 'Toy Bank' where things get store for a few months at a time.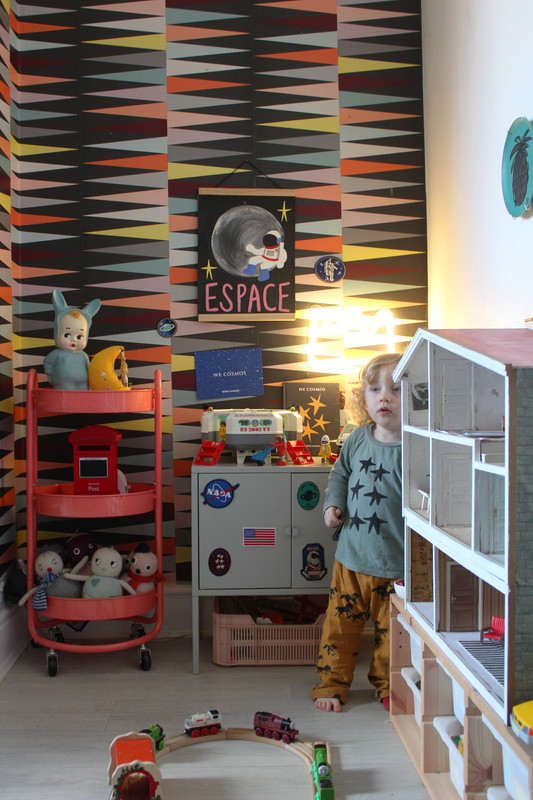 It wasn't long before the trains were back though!
Day 12. THE NOISE! Goodness me. We had to have a long sit in front of Hey Dugee this afternoon while I regrettably fell down a rabbit hole of Covid-19 horror stories and stats. WHY do I do it to myself. I will be ready for some quiet this evening and to switch off from the outside world. On a happier note, we had great fun drawing our rainbow this morning using our new Kiptas crayons from Scout & Co Kids!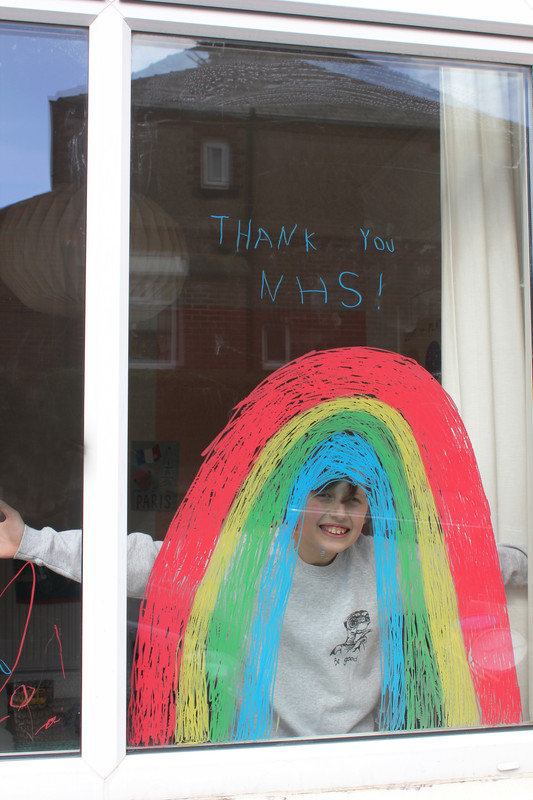 Thank you to our wonderful NHS!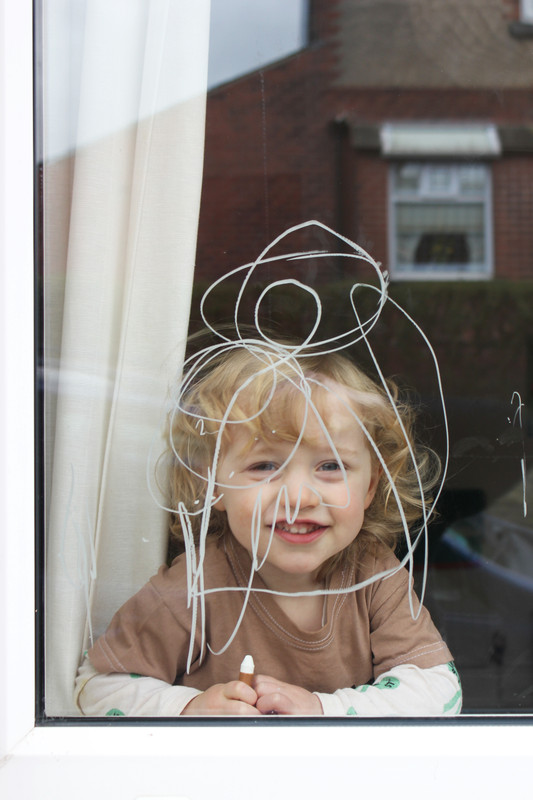 Cool rainbow Manni!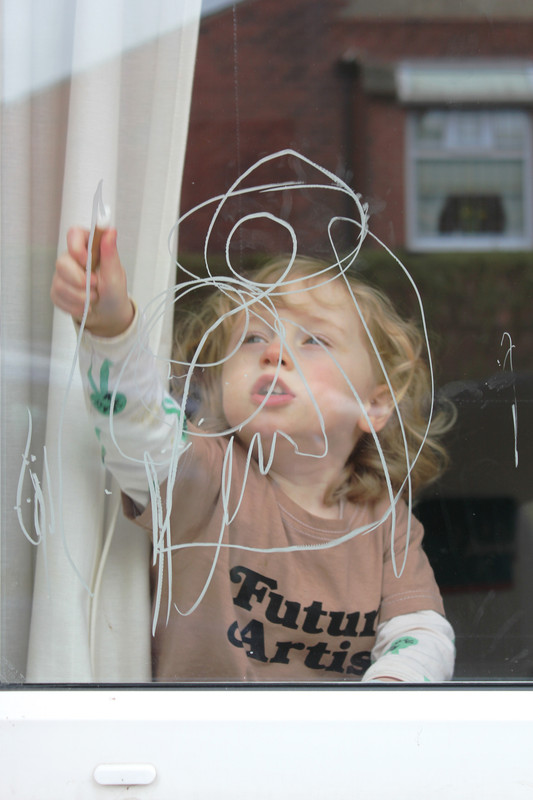 Future Artist T-shirt from Young Double who sell the coolest screen printed clothing and accessories!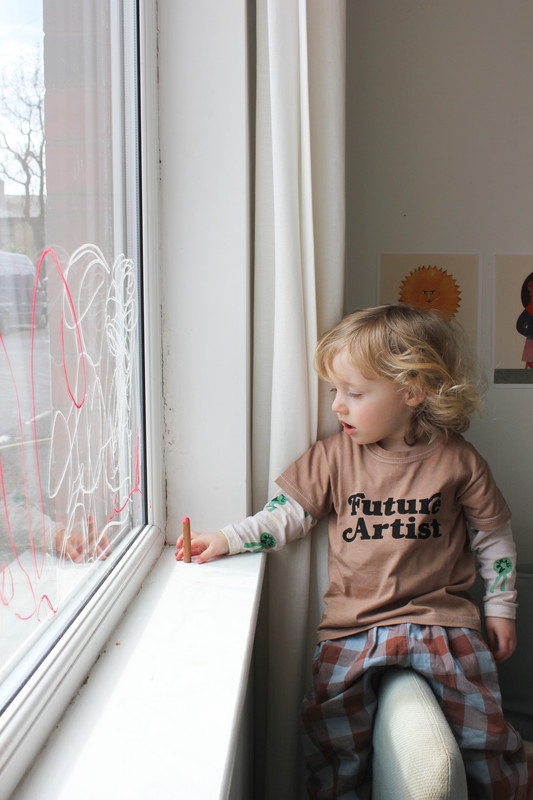 Plotting his next move, he won't stay still for long!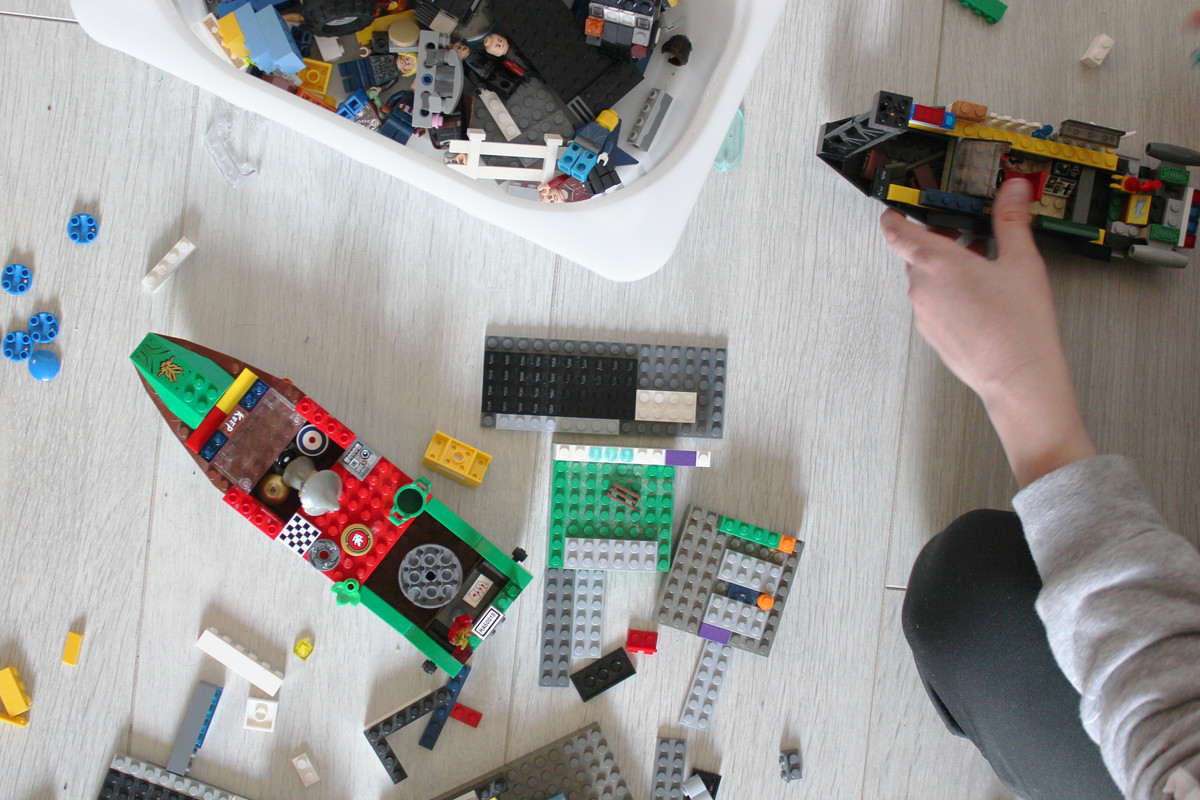 Our theme today was Lego so we made some wind racers! Finished with their handmade paper sails..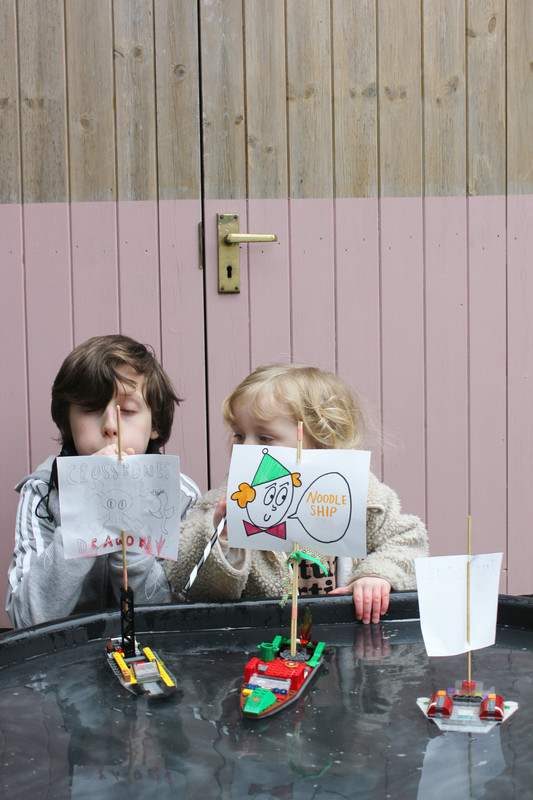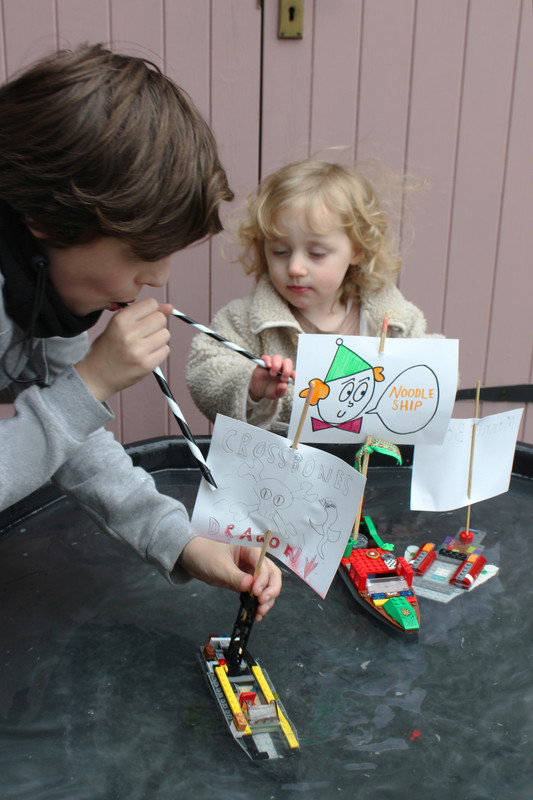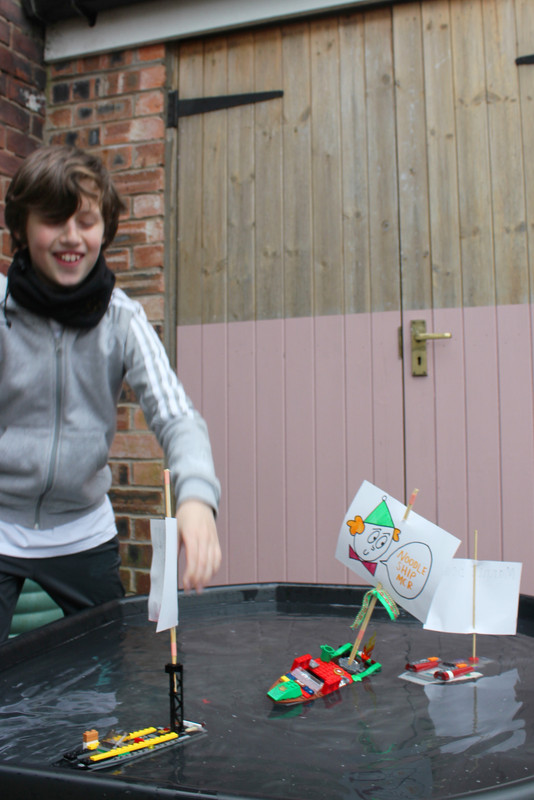 Manni's went under in 0.1 seconds, mine needed a lot of help from the straw blowing. Noah won!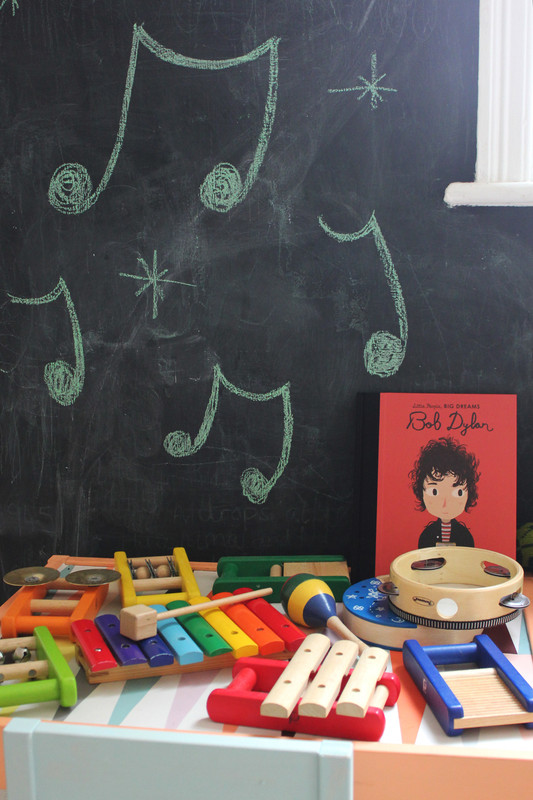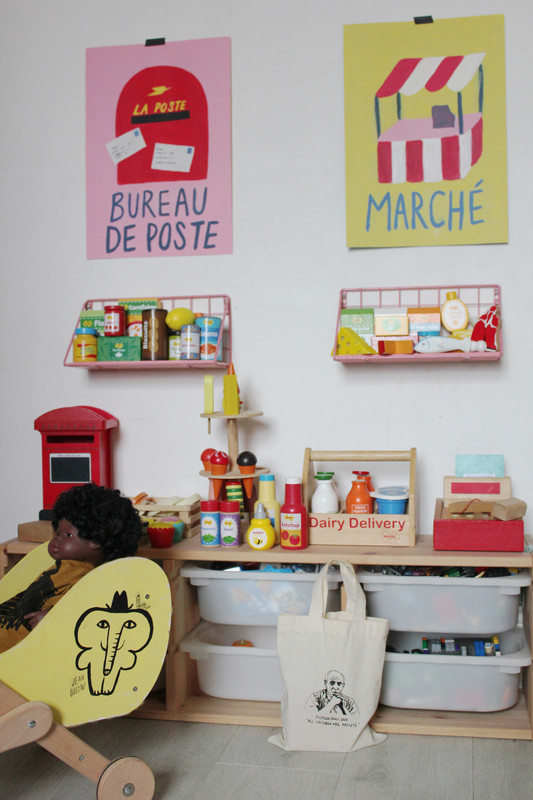 Some more of today's play!

Plan for this weekend : Paint lots, read lots, make the most of dad not having to work!
Day 11. Today we were inspired by a beautiful idea from @freyahartas on Instagram. The phases of the moon. I had a little too much fun getting stuck in, I love anything moon themed! Noah was a little downbeat this afternoon, I think the sudden separation from his friends and family is getting to him. Good job Grandma saved the day by dropping some chocolate on our doorstep!

Since digging our our Mr Men and Little Miss books, Noah has set himself a target of re-reading them all! Just 14352577 more to go then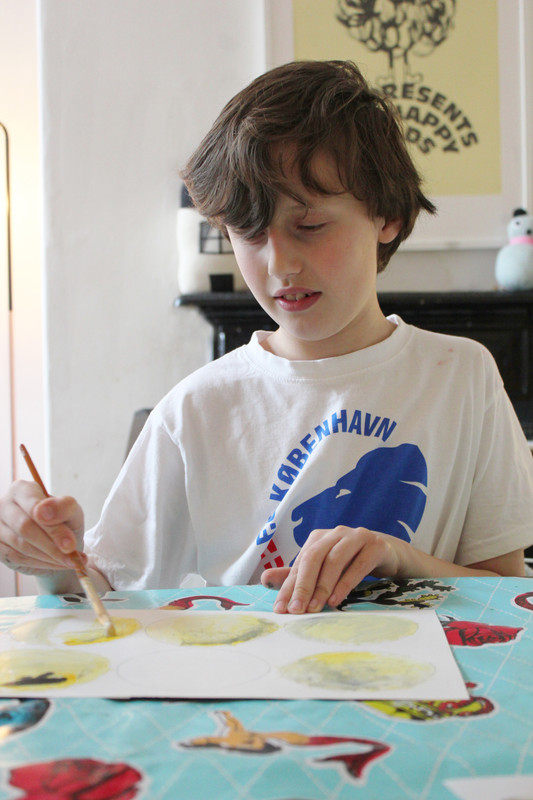 working hard painting his phases of the moon!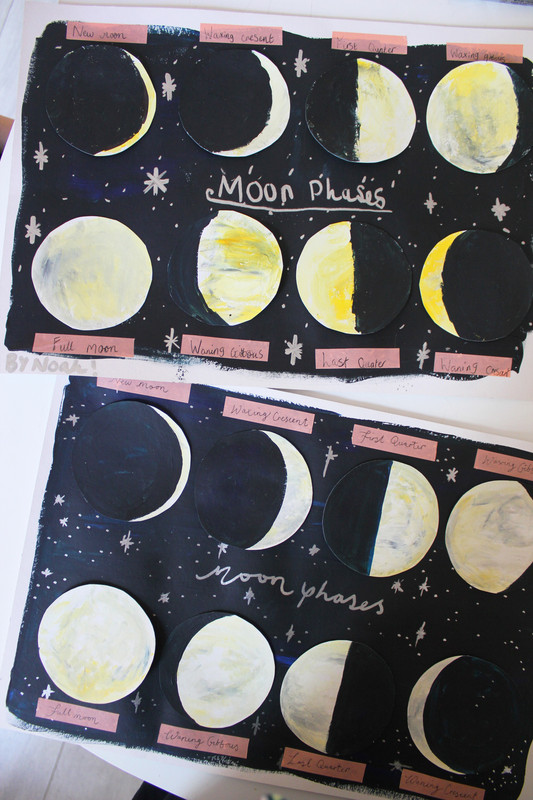 Voila!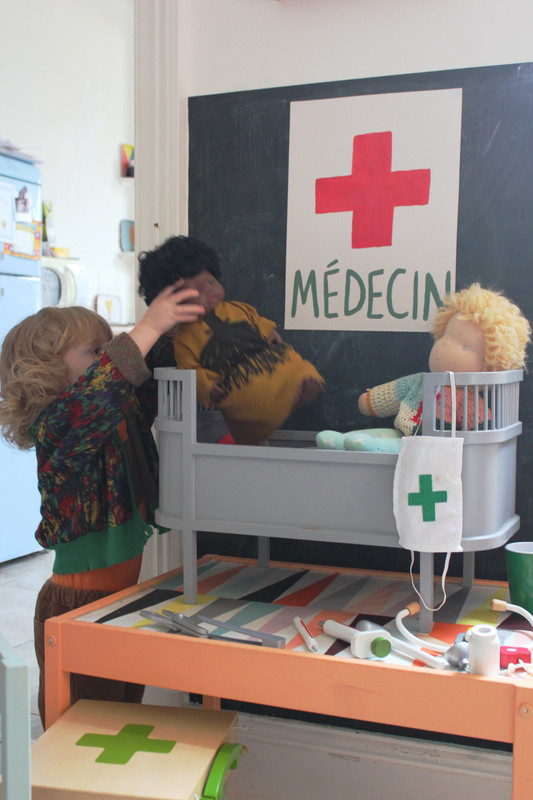 Playing Doctors! I LOVE the Instagram feed of @leahlittlejolanandrudi she is always setting up the best play scenes for her little ones and forever inspiring our play time!
We collected a selection of twigs and leaves on our quick walk to make a scrumptious leafy stew in the mud kitchen! YUM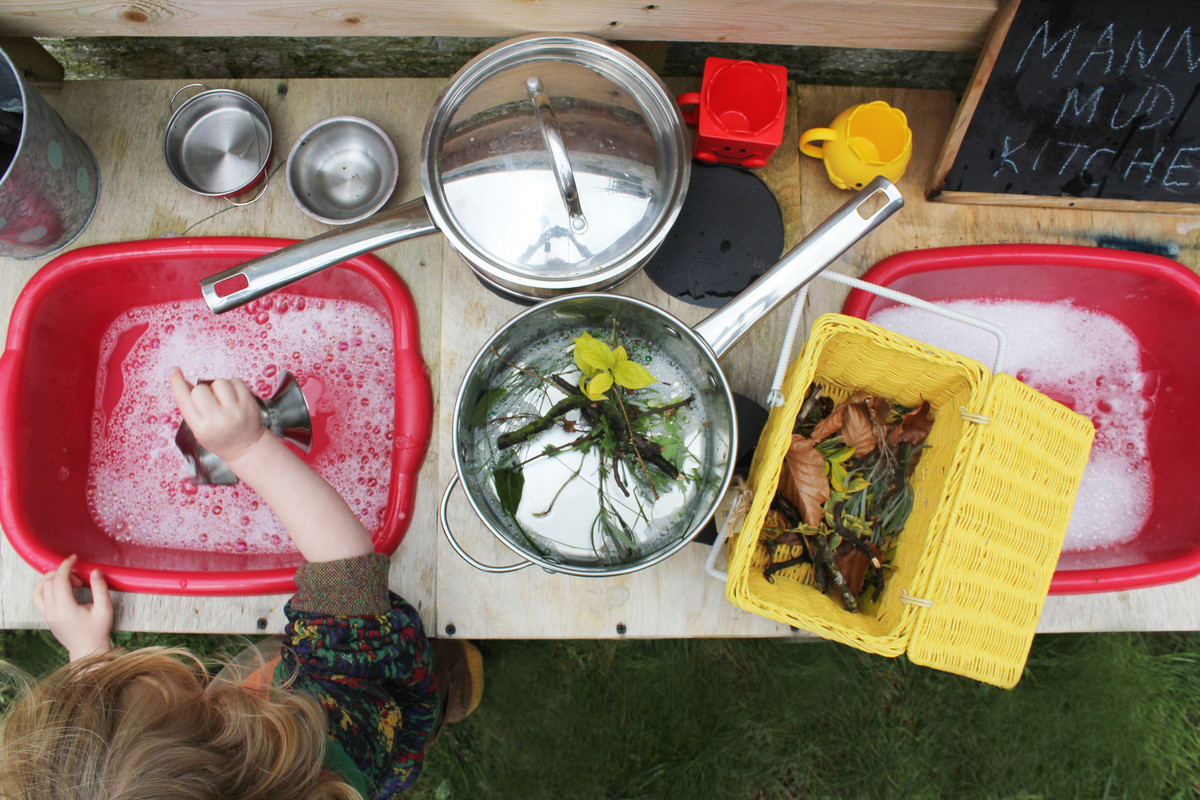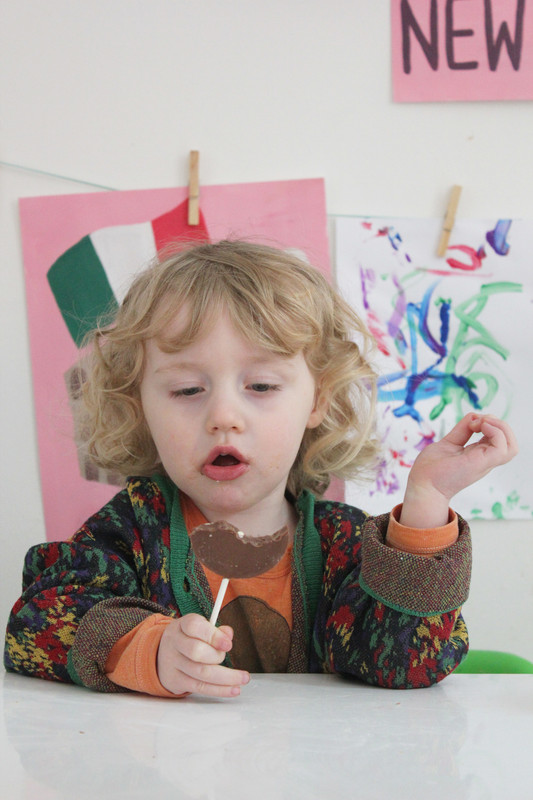 Chocolate monster!
The clapping for the NHS staff was so emotional. What an incredible job they do, risking their own health every day, working tirelessly to protect us. We're frightened in our own home, shut away from the public so I can't imagine the fear they take with them to work. Real life superheroes!
Day 10. I need treats. Food treats. The bad kind. Today's theme was Wildlife! We enjoyed making mosaic pictures while we listened to Nigel Nit Boy, today's David Walliams instalment. Noah made a penguin and I made a panda, we both found it really relaxing. Or maybe that was the calm that washes over the house once our little Wild Thing naps!!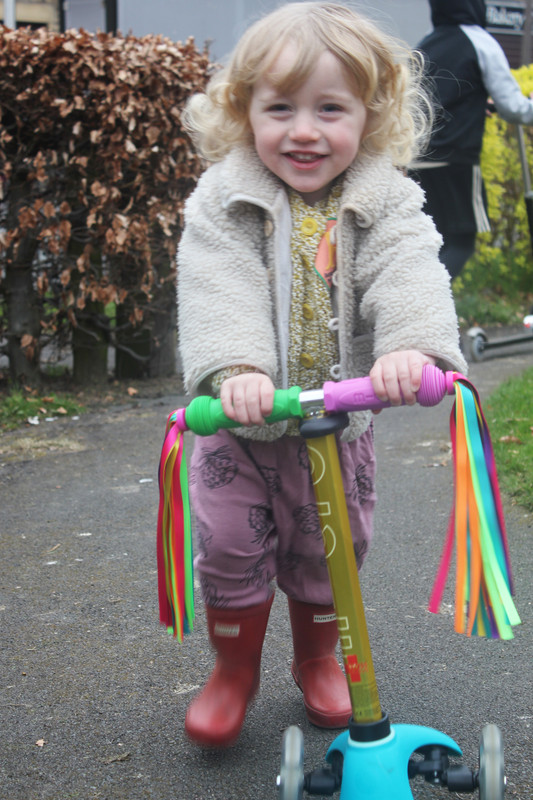 A quick stretch of the legs early this morning. Manni insists that his scooter is more fun this way. I don't like to challenge him these days, mostly because I lose!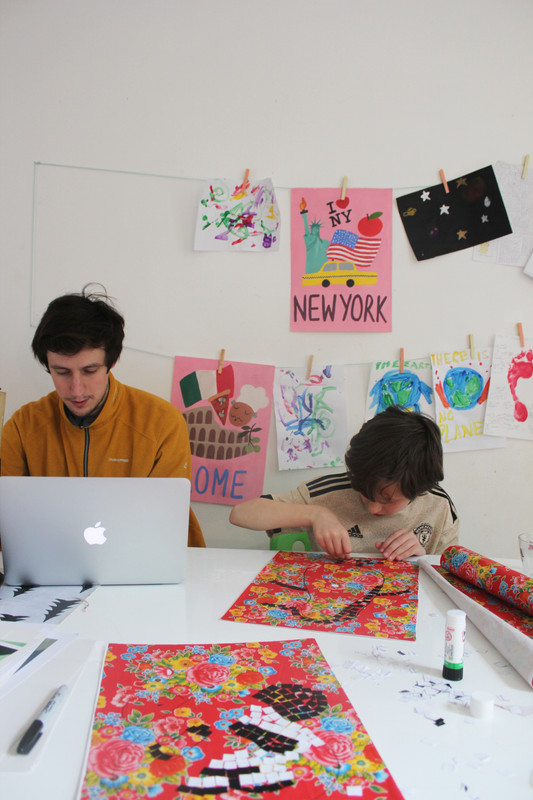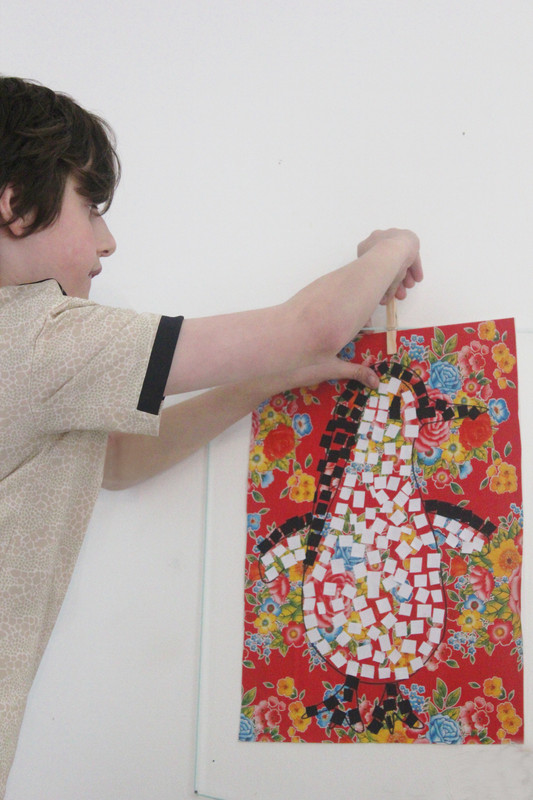 Cool penguin Noah!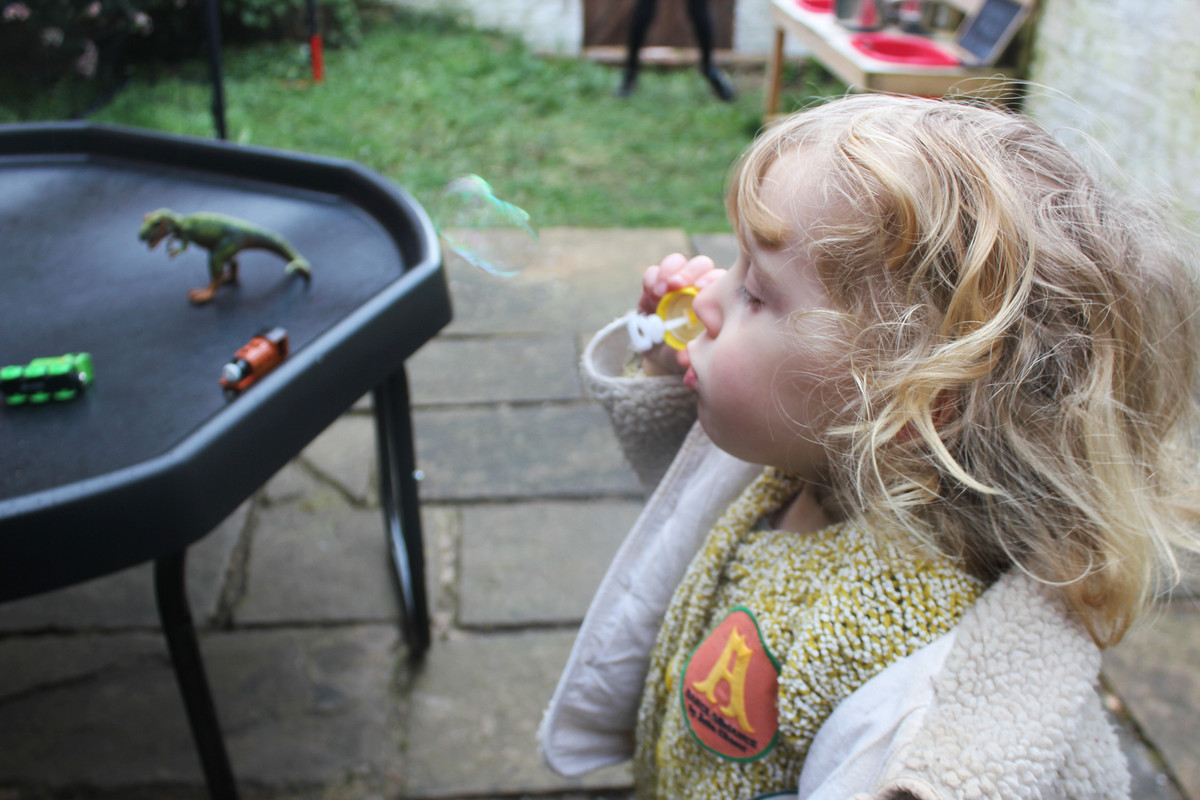 BUBBLES = hours of fun! Well, until they get spilt which is definitely NOT fun.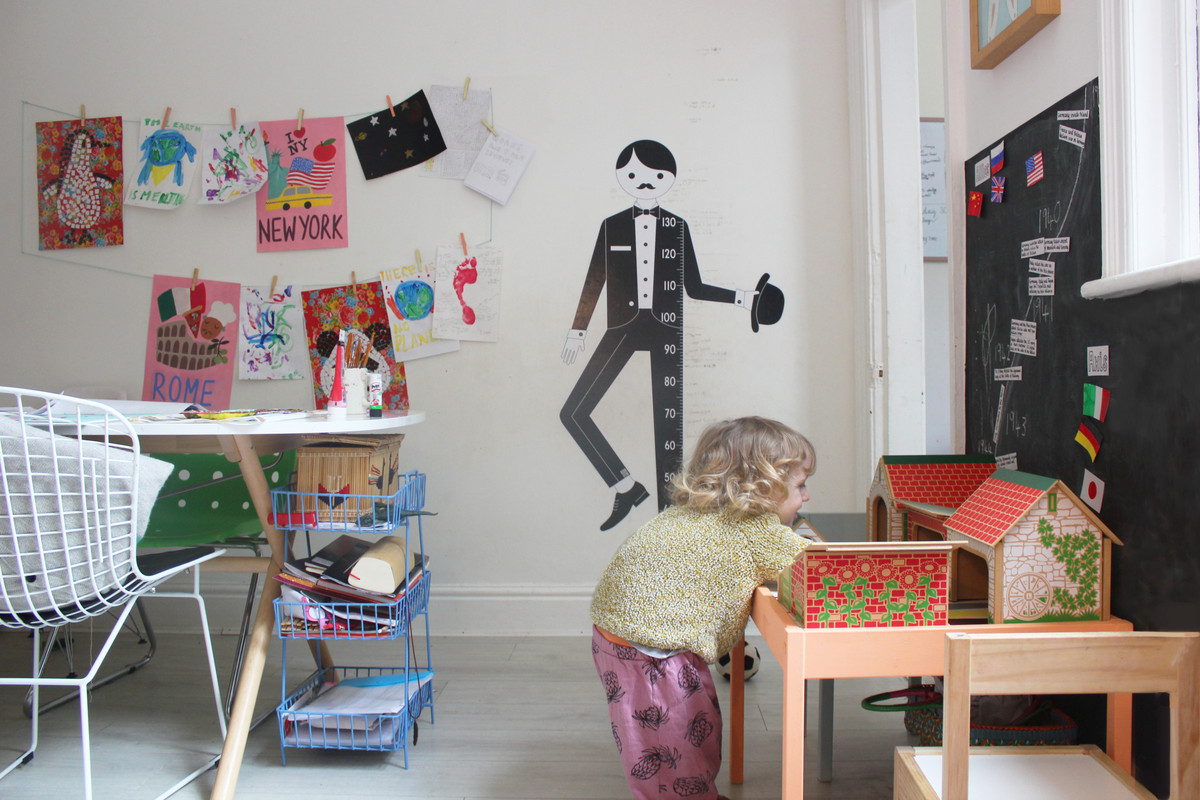 This afternoon I dug out Noah's old farm set! I love seeing Manni enjoy these old treasures all over again.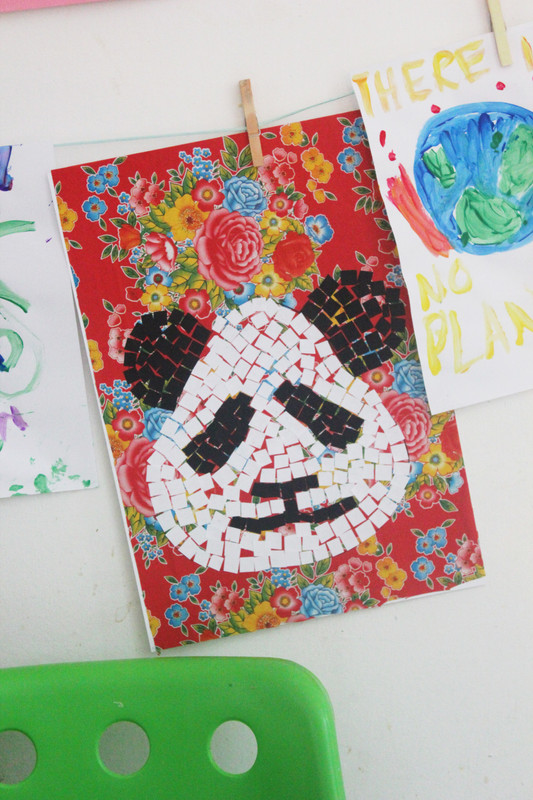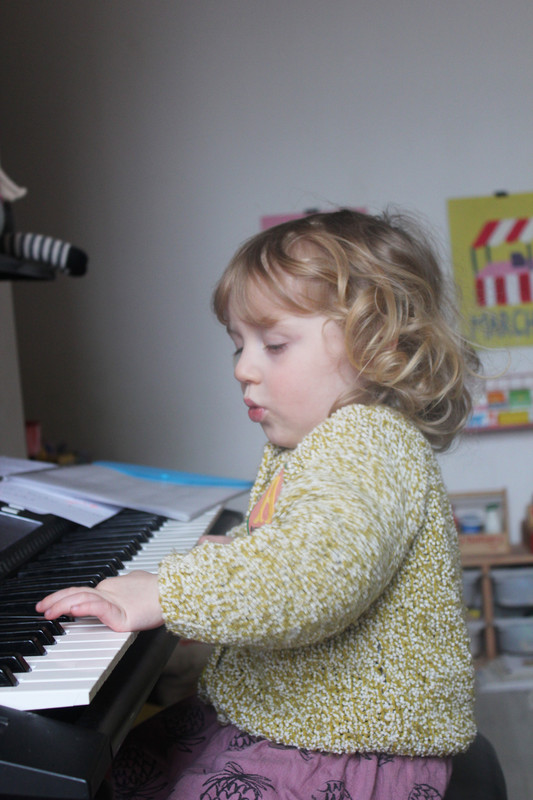 Much of the falling out between the boys which still happens, even given their large age gap is because of the keyboard. Neither of them can bare the other touching it! I often feel sorry for our neighbours!!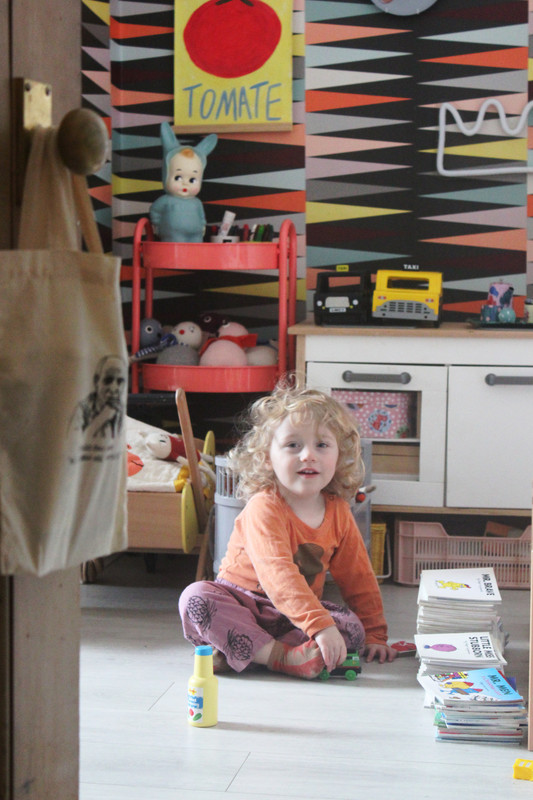 Day 9. Noah was bursting to make another Mr Men book today, our theme was WWII. Here is a little snippet of his latest novel.. Just call him Noah Hargreaves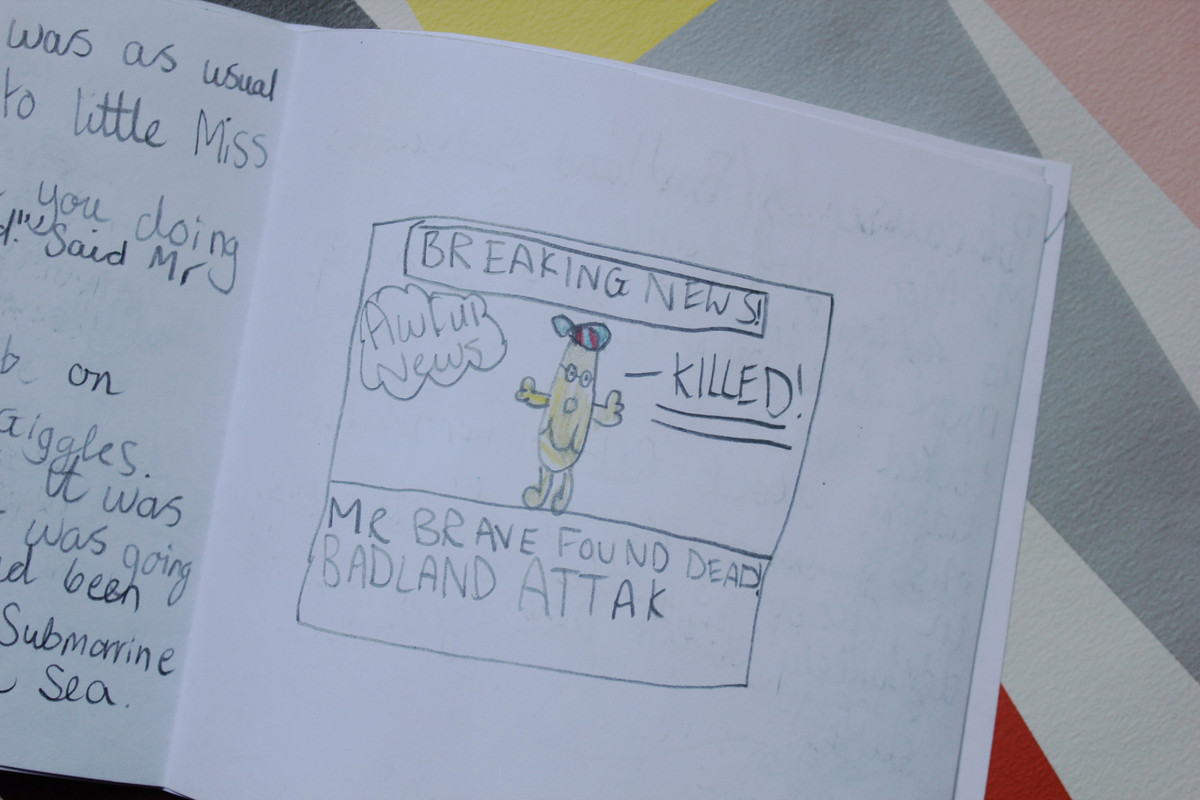 I particularly liked this page, poor Mr. Brave!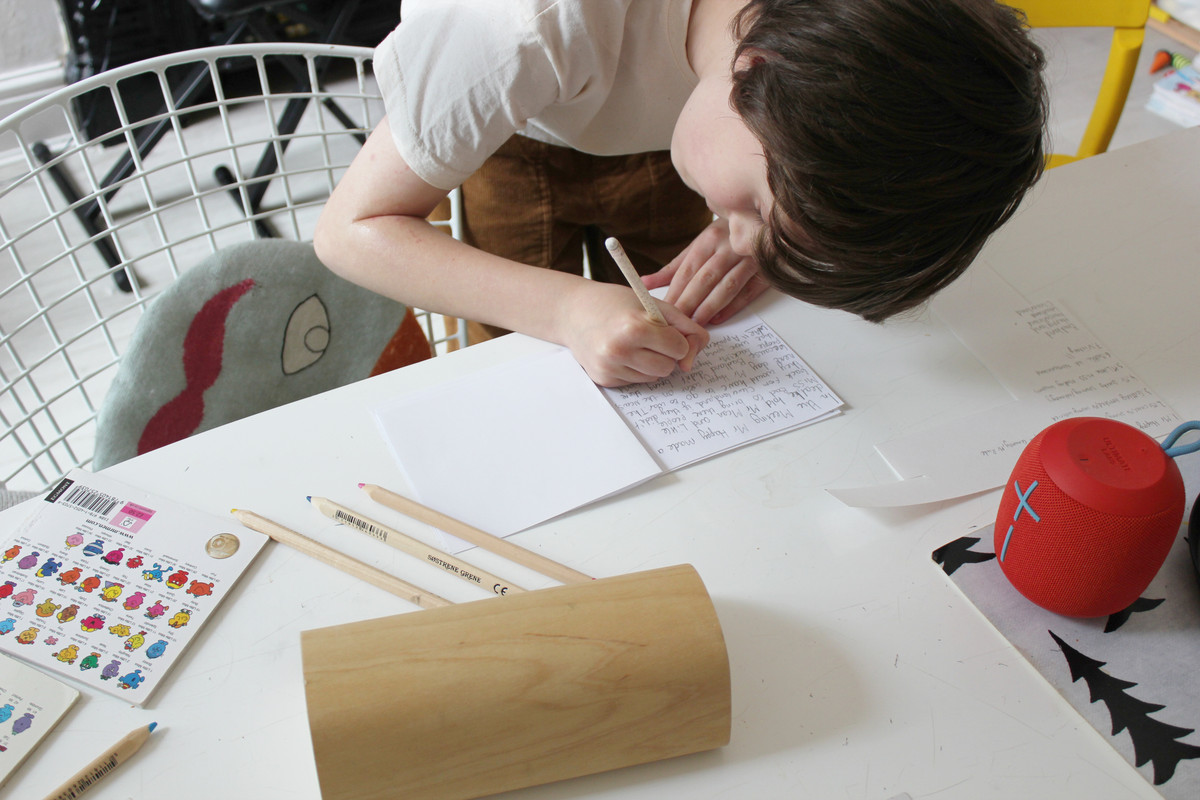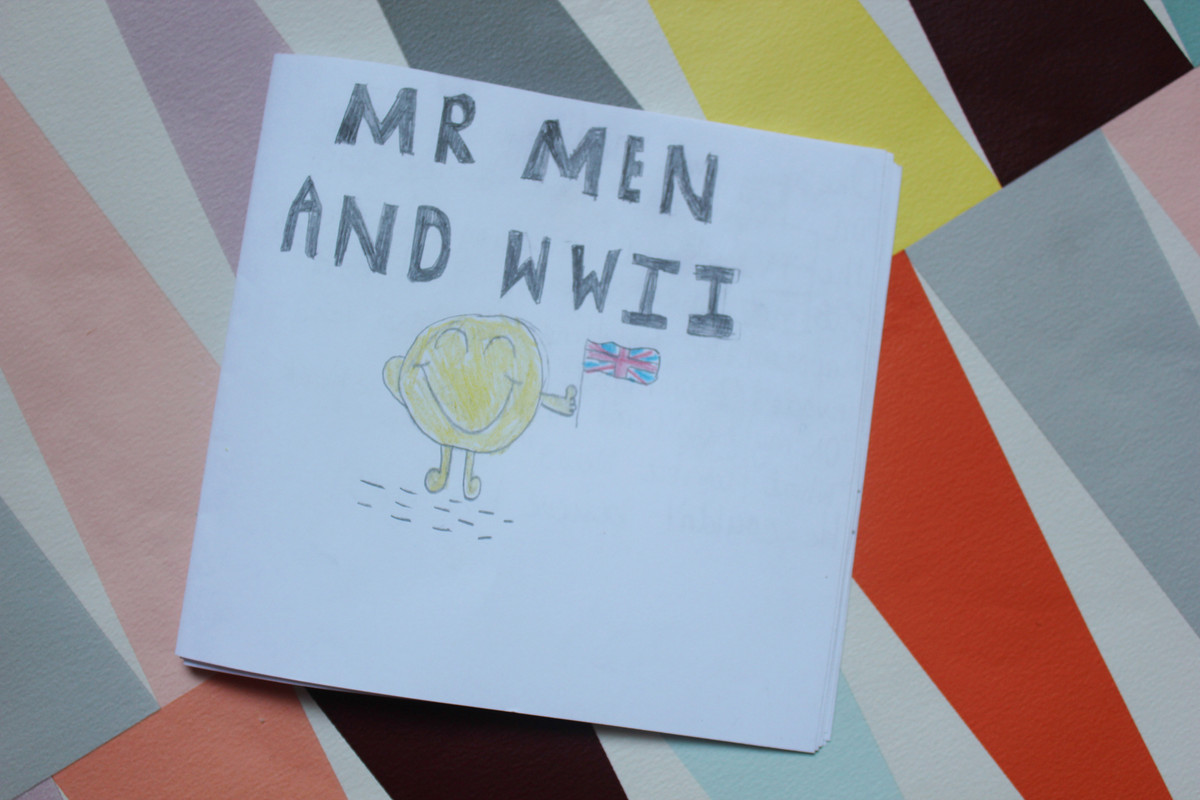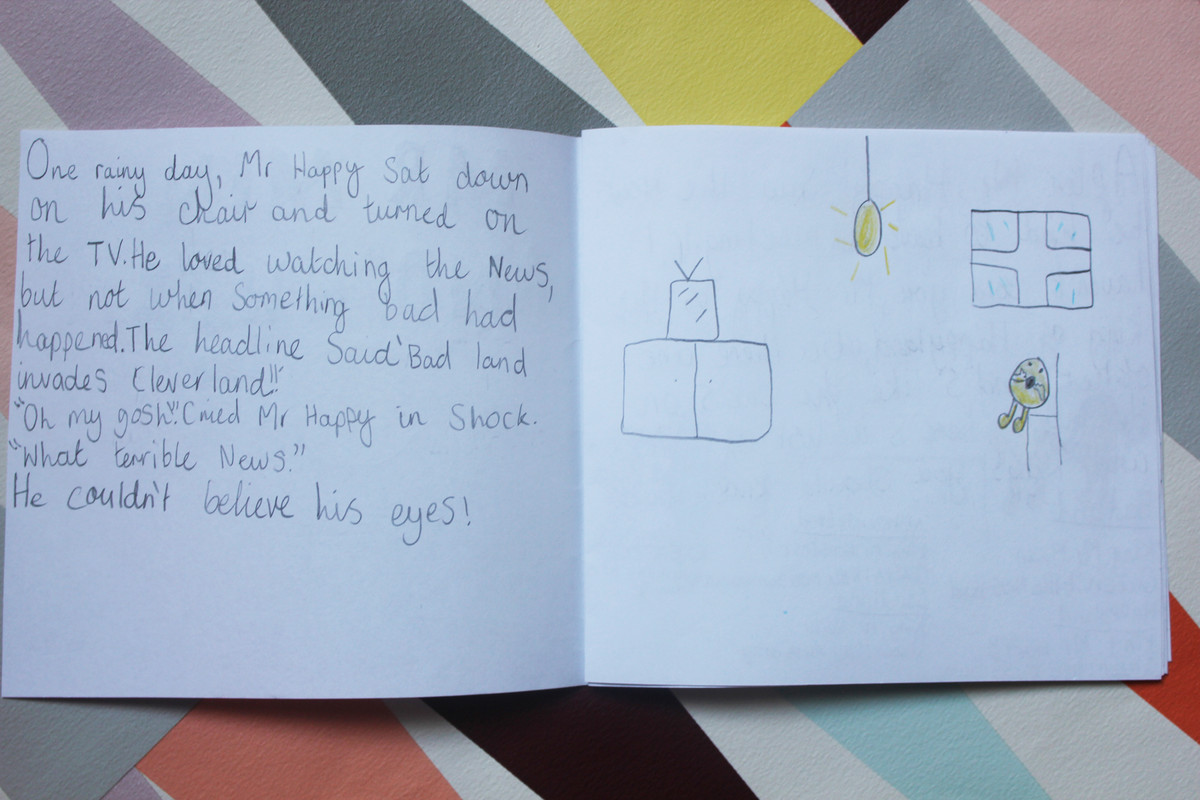 You can't beat vintage Playmobil, I think Manni agrees. Good job because who else could I *pretend* to buy it for. The colours are so dreamy!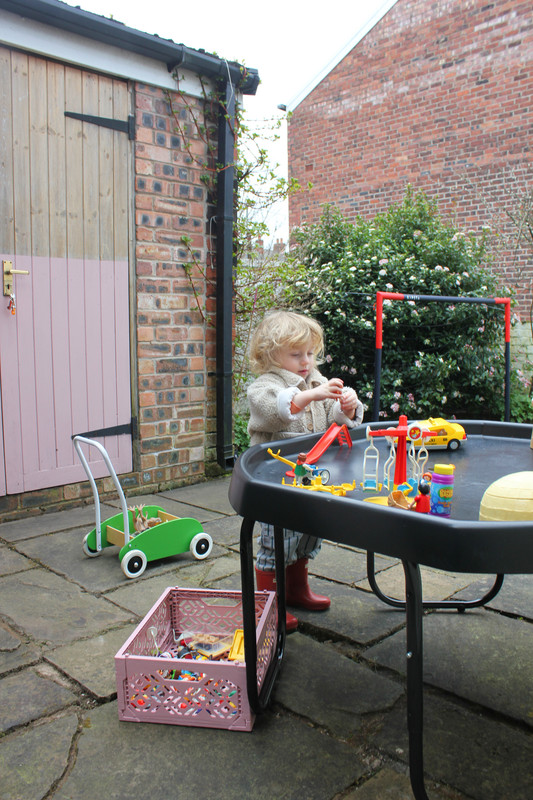 While Noah worked hard on his second novel, Manni cooked up a storm in the mud kitchen!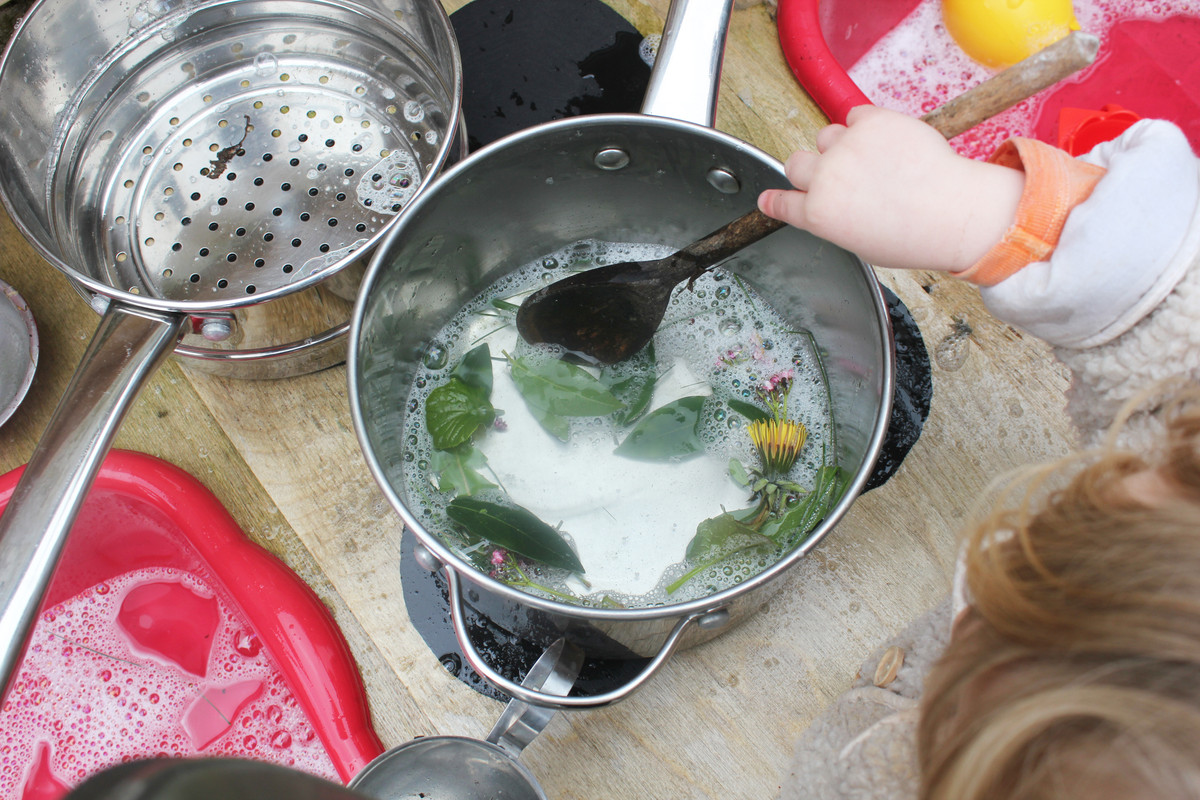 After lunch I made a WWII timeline for Noah, his job was to sort each event into time order!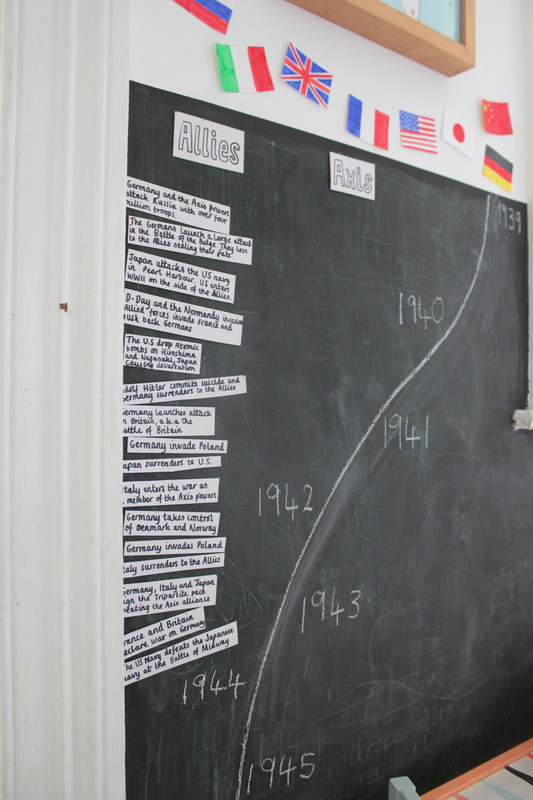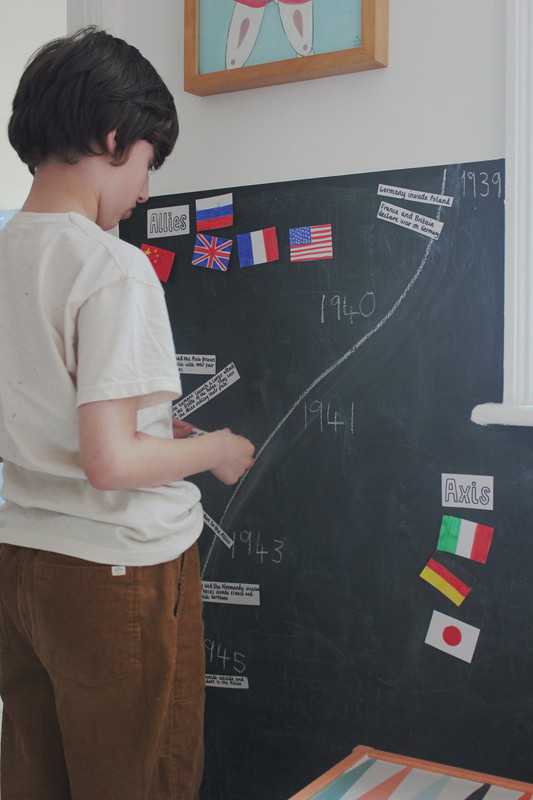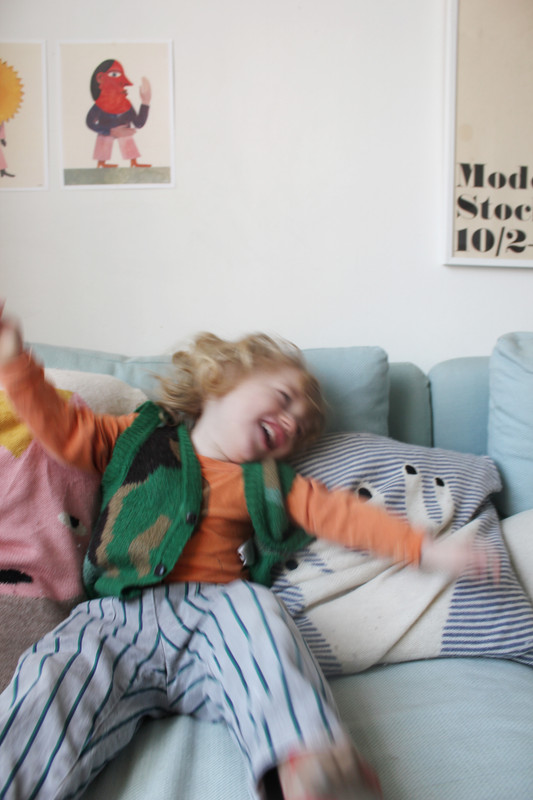 A visual representation of Manni's day 9 mood.
Day 8. Today we managed to do lots of playing/creating and the day has flown by. Our theme for the day was Mr Men & Little Miss.. We haven't read these books in forever! Noah used to adore these stories and would often make little versions of his own when he was smaller. This morning, we introduced them to Manni for the first time.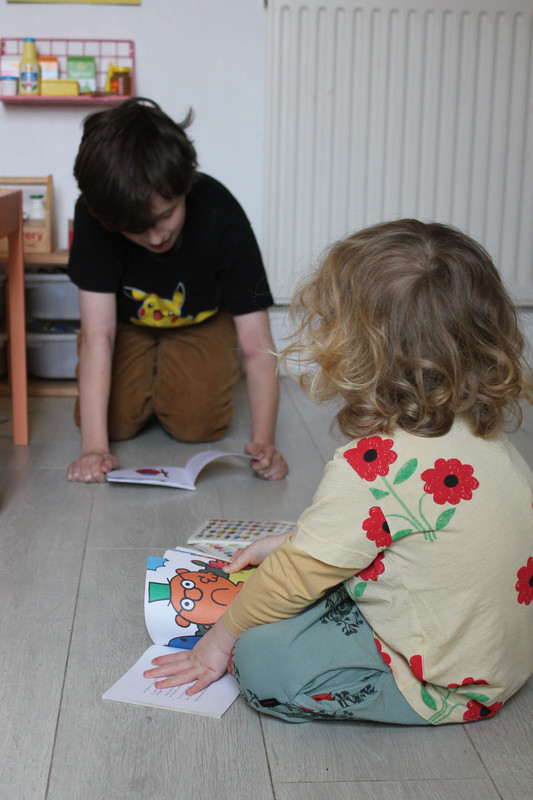 Noah got straight off to work on his own creation!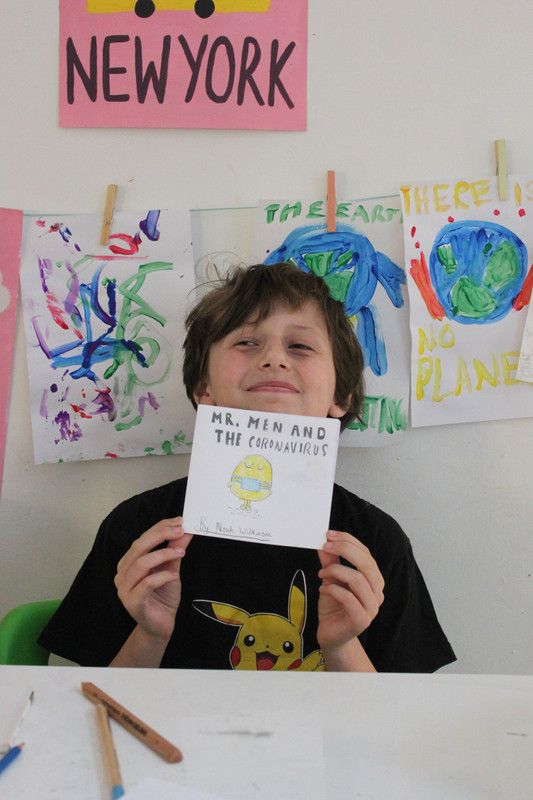 Spoiler alert : There is a happy ending with a big party to celebrate. Mr. Clever cooked up a new vaccine in his basement.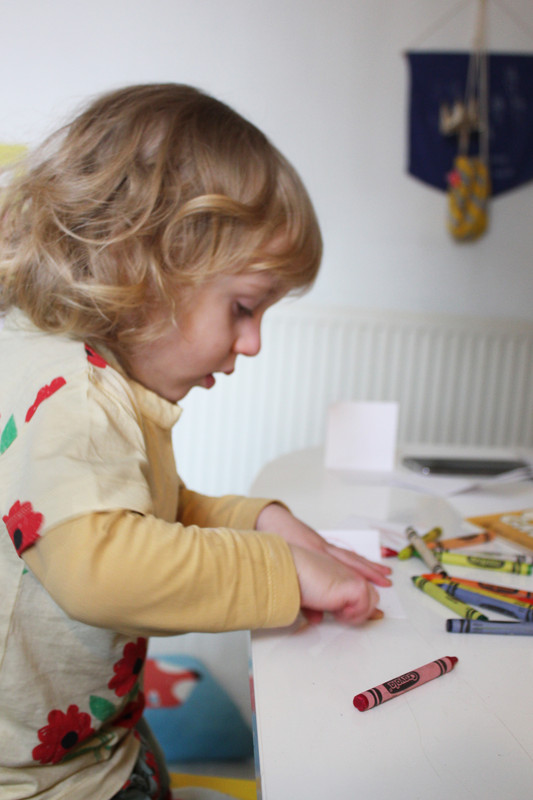 Did you know that wax crayons don't come off newly painted chalkboards? Manni didn't!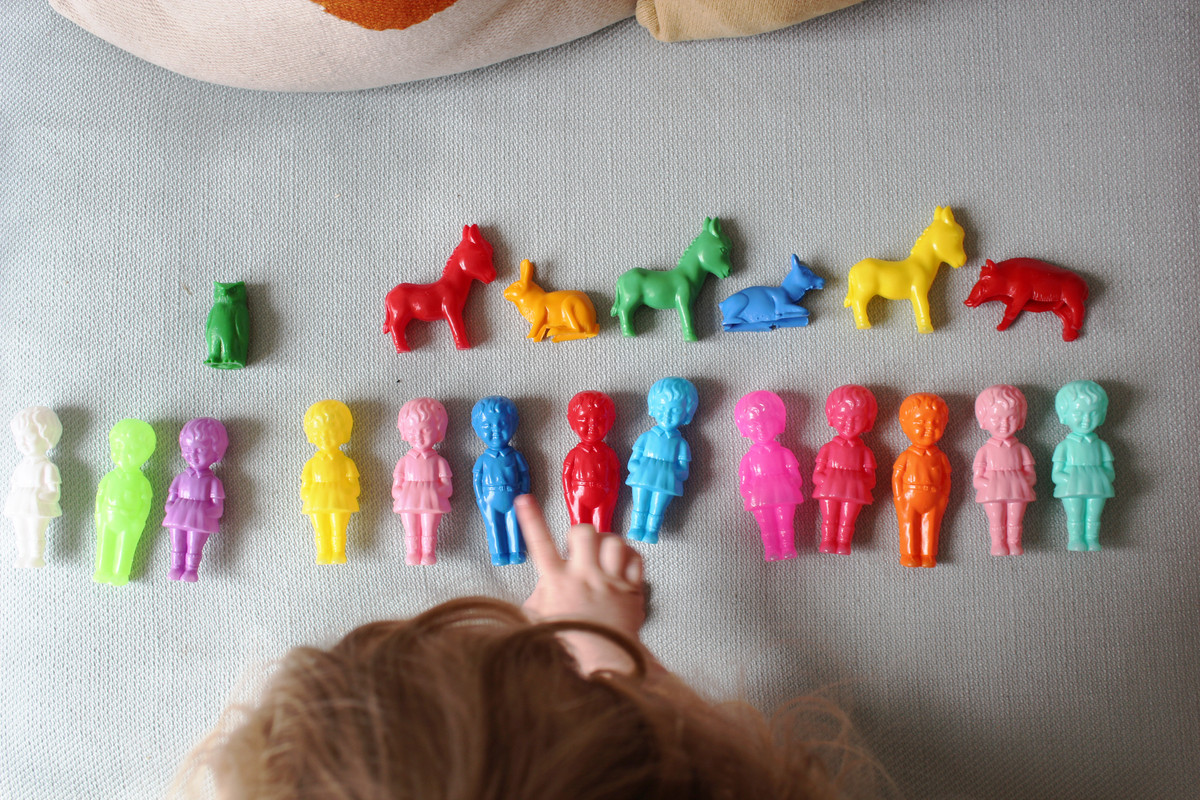 We found the perfect use for our colourful and equally wonderful little cuties. Counting! (found at @oklahomamcr)
After a quick dash to the post office to send some Wolfnoodle orders, we dug out the Kinetic sand. Our tuff tray saves us from making too much mess, after a good old play this space can be back to its usual look in less than 2 minutes. Because who's got more time than that?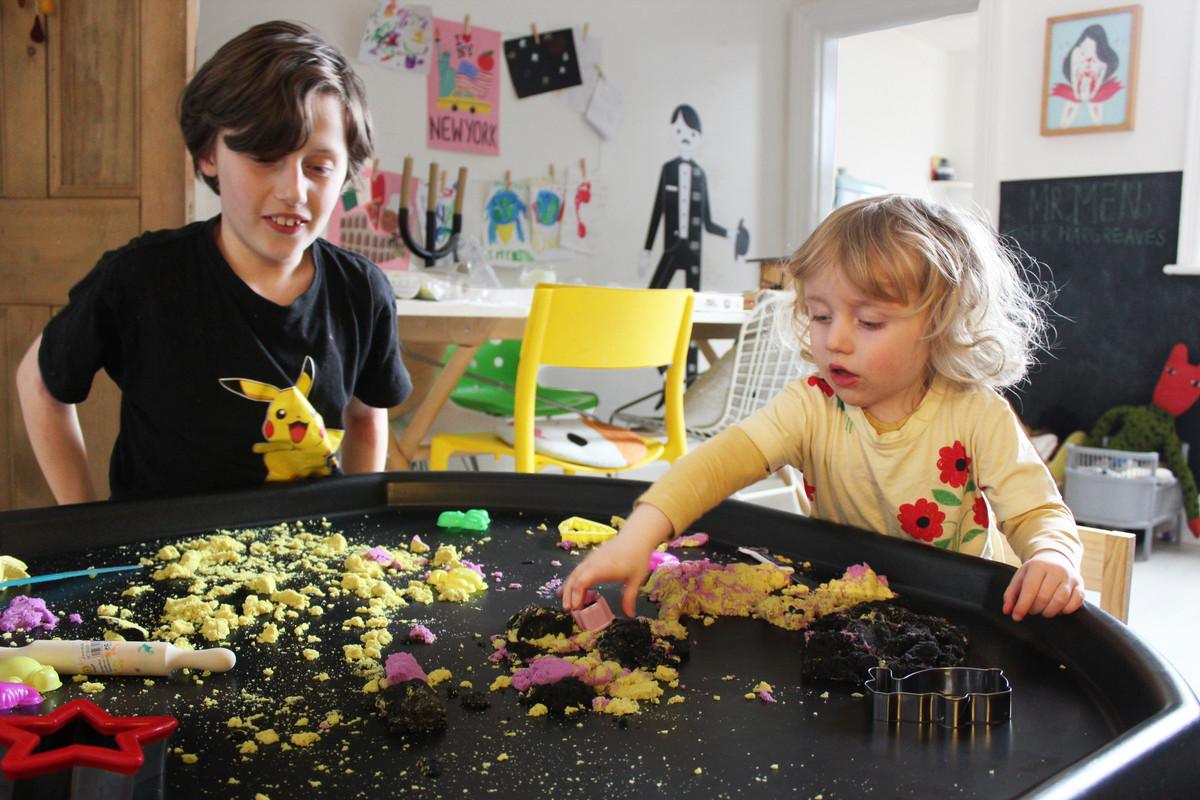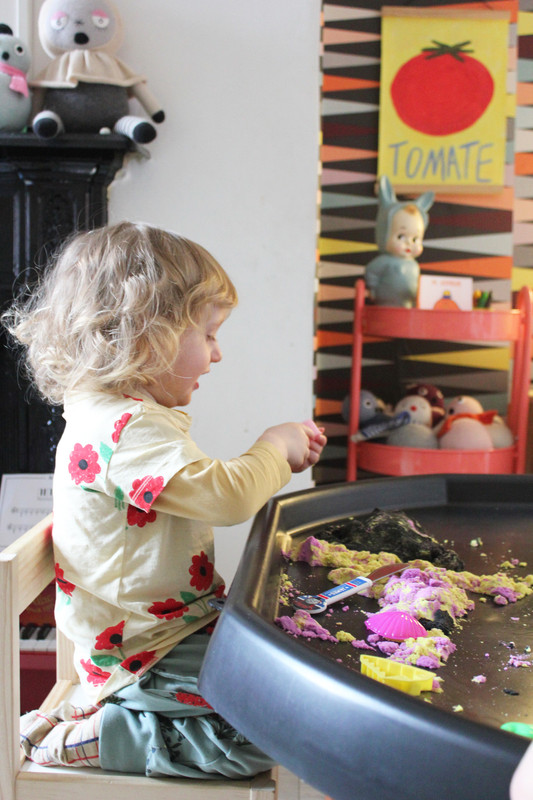 Lollipop break!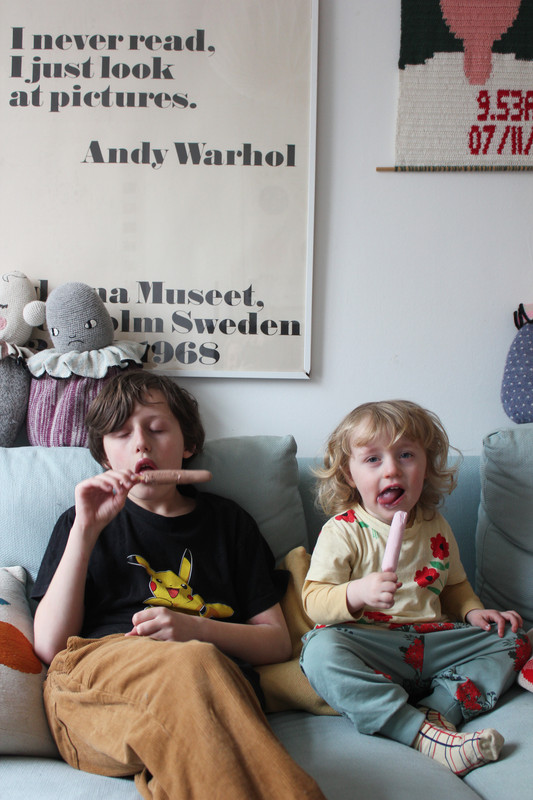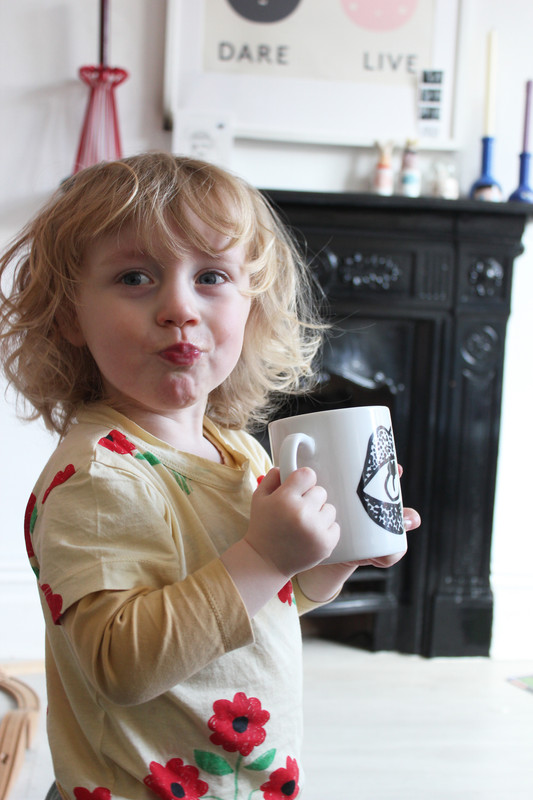 While Noah watched a little TV and Manni played with his trains, I quickly updated our Ikea table and chairs. I bought them in November and always planned to upcycle them, nothing gives you more time than a countrywide lockdown.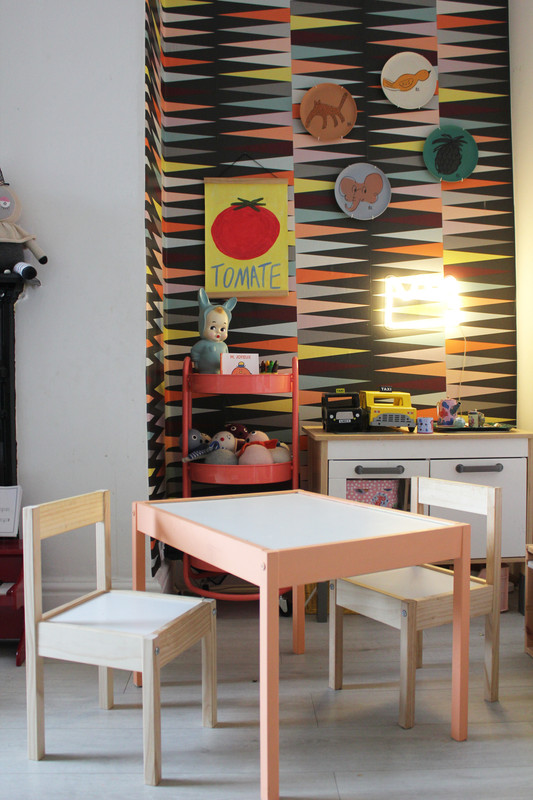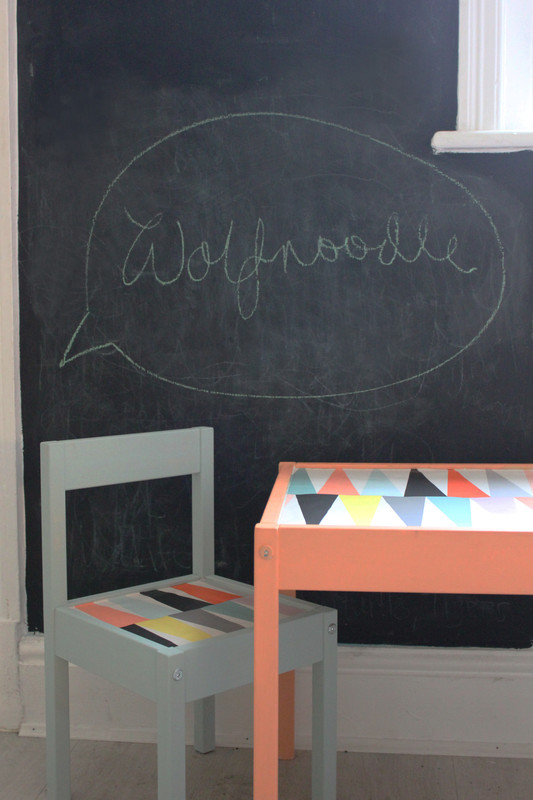 Our weekend was spent watching movies, playing in the garden, trying and failing not to look at the news and Face-timing family (thank the technology gods for this wonderful creation) I even managed to sit still and paint for a few hours, consume a shit load of tea and listen to all my favourite music. Bliss. This almost never happens, I usually stay up late to paint and end up paying for it the next day with a strong eye-bag game, or even worse at 3am if Manni wakes for boobs. MUM LIFE.

Anyway, here are the first few of a series that I'm going to be working on over the next few weeks... NEW YORK and ROME. More to follow!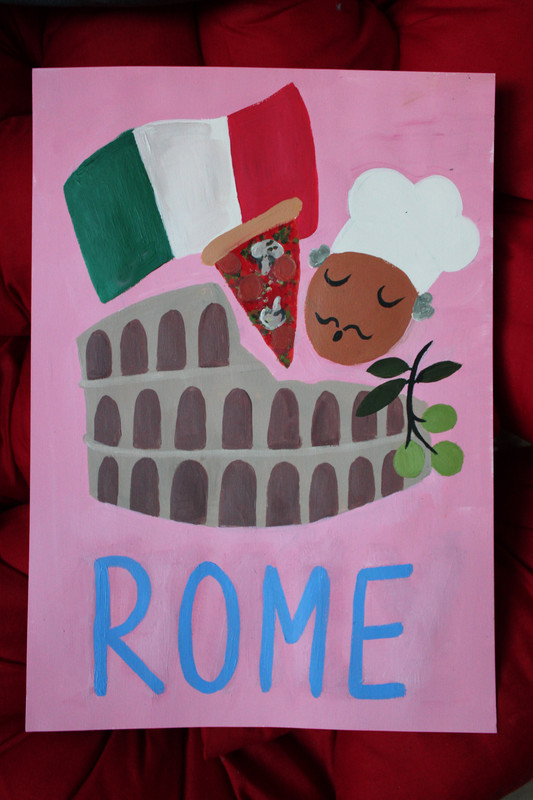 This boy got a haircut today! Although it's not very clear from this picture, it's actually quite a bit shorter. I'm feeling glad that his curly locks are able to hide my terrible attempts at hairdressing.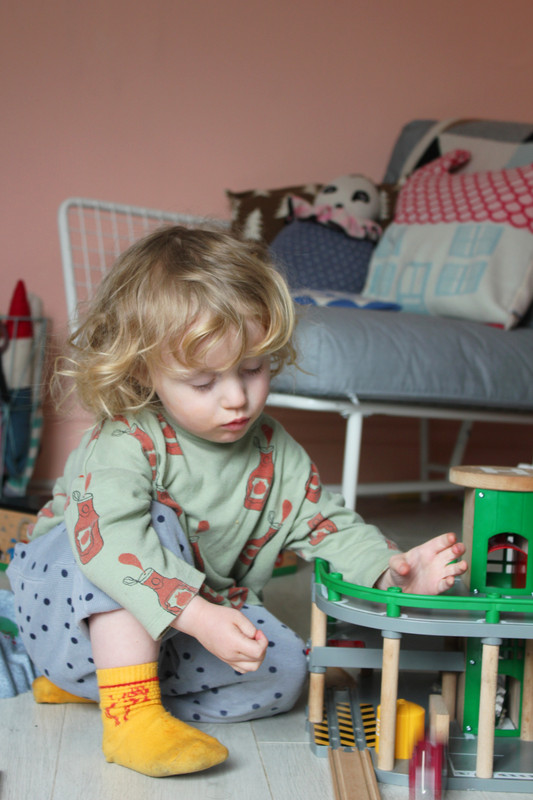 Day 5. Today wasn't great. Just one of those days where nothing ran smoothly and of course, by not being able to see your friends and family or even having a carefree chat with a neighbour or fellow school mum (yep, I even miss the school run) there wasn't much I could do to break out of the funk. Manni wouldn't go down for a nap so spent the day tired and grumpy meaning he was intent on spoiling anything that Noah and I had planned to do resulting in Noah getting frustrated and downbeat. Not to mention the food shop. Today was the first time that it really hit me, standing in a LONG queue 2 meters apart from every other human, that this situation isn't going to change anytime quickly and the best thing we can do is think positive, it could always be worse.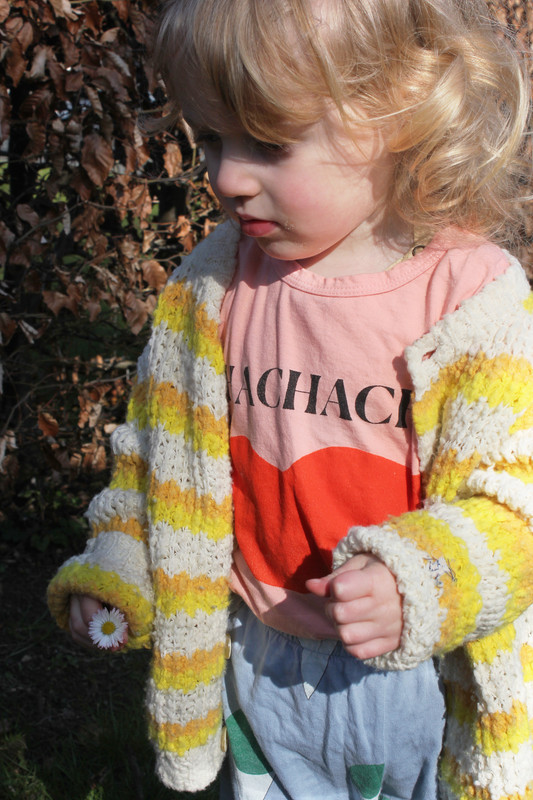 Today's theme was Dinosaurs! Noah and I managed to make a memory game with facts about some of his favourite dinosaurs which was fun! We really wanted to play Dino Bingo but Manni kept on moving the counters - little brothers hey.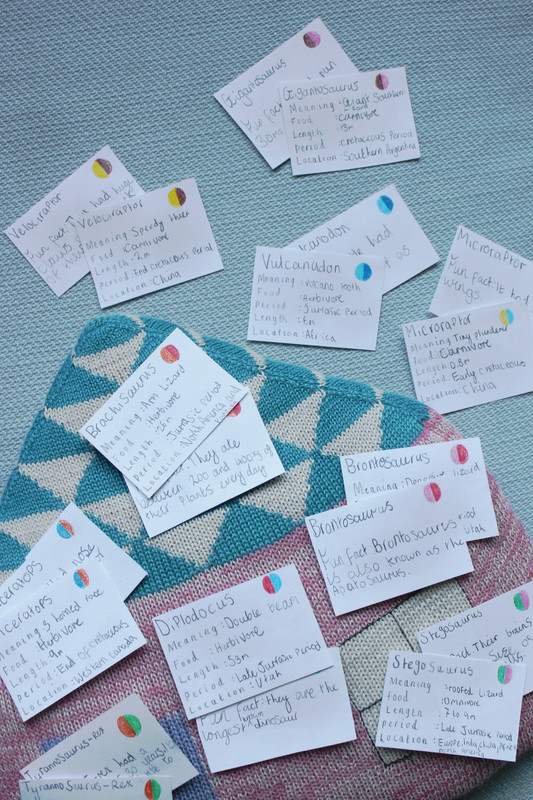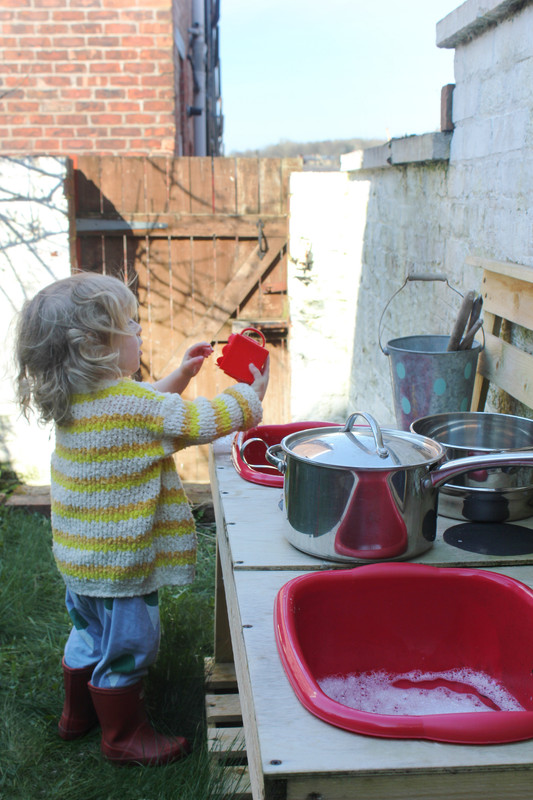 Manni loves playing with his mud kitchen! We found this beauty on eBay last summer. The pots and pans were a lucky charity shop find.
This book by Okido is awesome! We got our copy from Oklahoma in Manchester's Northern Quarter (Instagram : @oklahomamcr)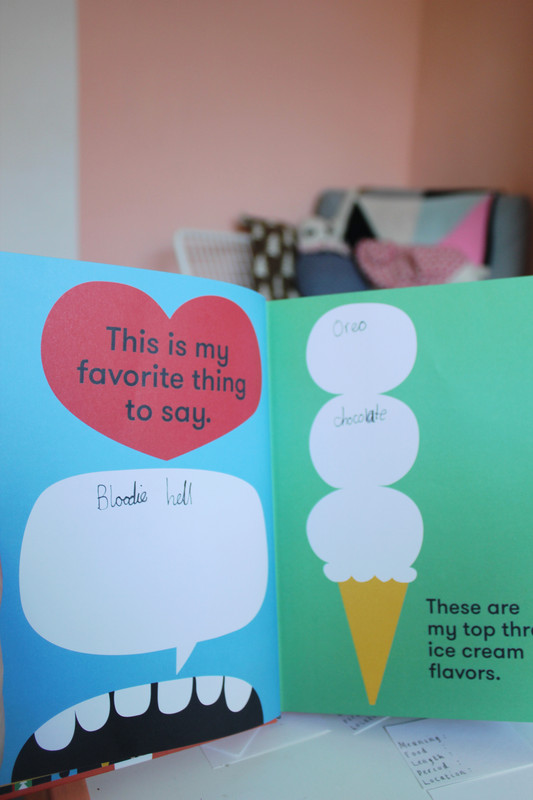 Yikes!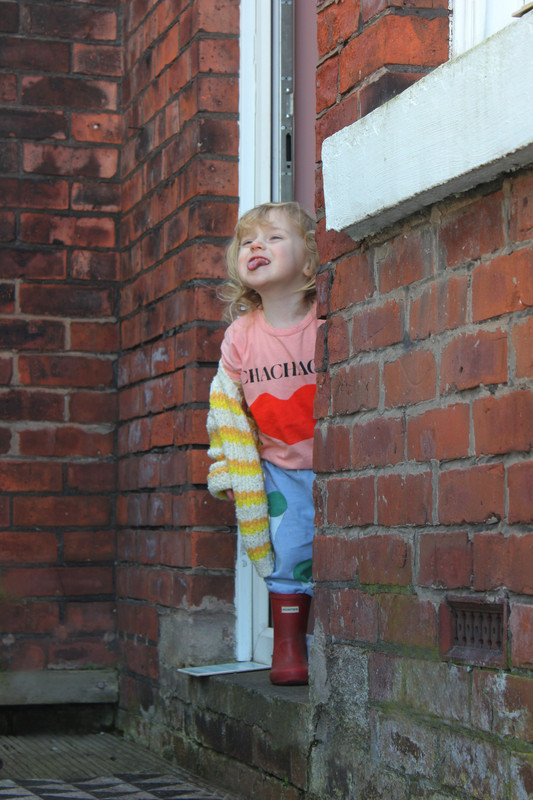 The face of our sweet little wild thing who is now fast asleep.
Our plan for the weekend: Read, watch a couple of movies and eat ALL the good food!! Chill mode : ON
Day 4. Today's theme was Climate Change. We had great fun painting our feet while we spoke about our carbon footprint and what we can do to reduce it.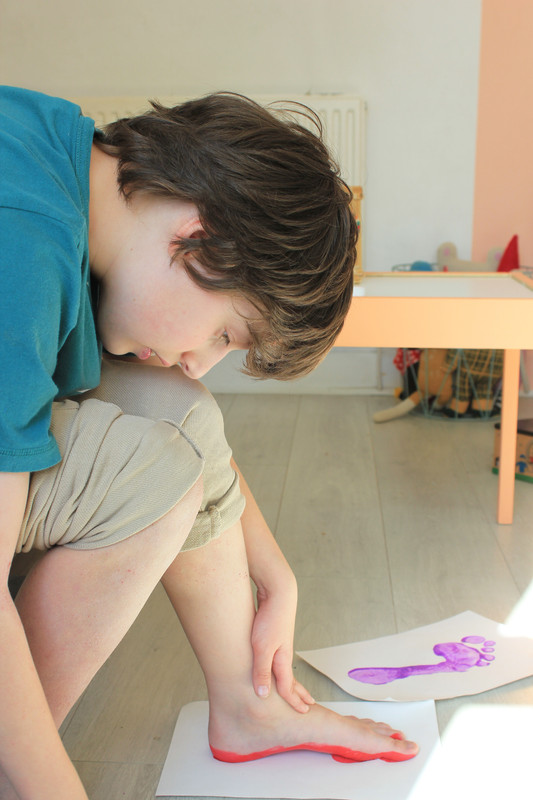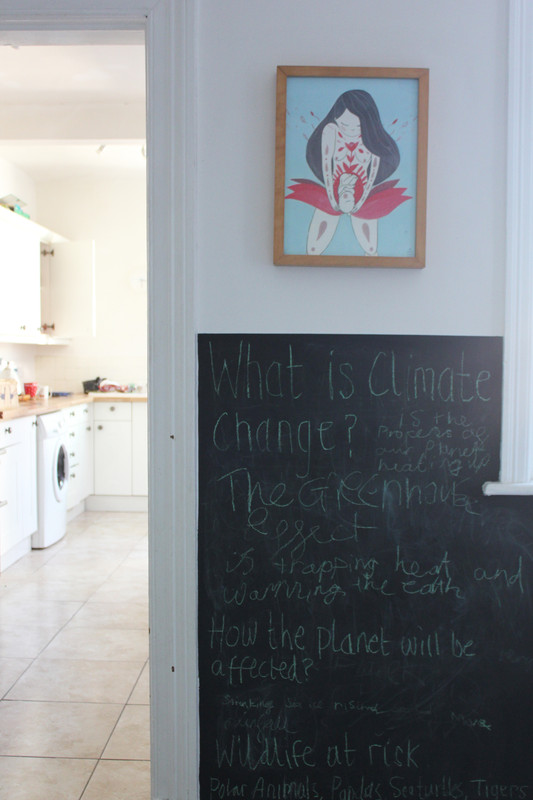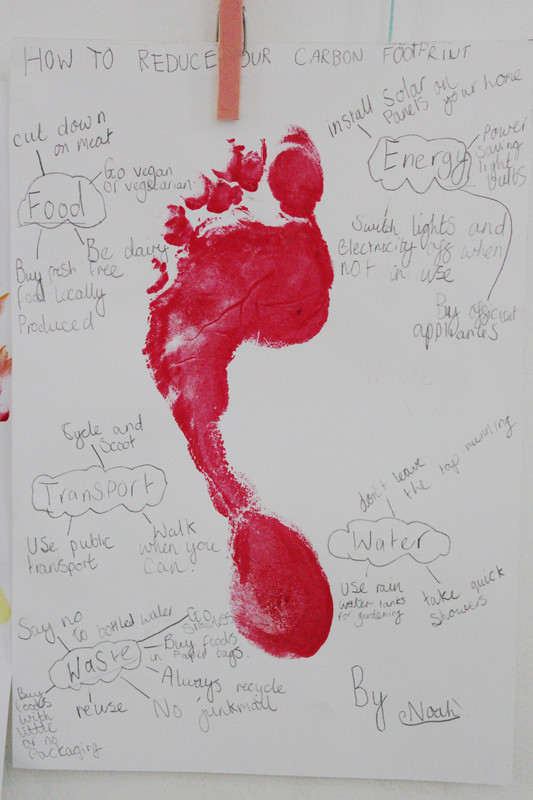 I can't believe how nice the weather has been since we officially went into 'lockdown'. It's ALWAYS rainy or dull (mostly both) where we live. Today we painted in the garden and the boys managed a quick run around near our home with their dad who is WFH. We're lucky to have a large area of unused green space around the corner from us. Our garden is very small so this will be our saviour over the coming months. I managed to play around with cushion covers while they were out, our Ikea PS chair got a whole new look.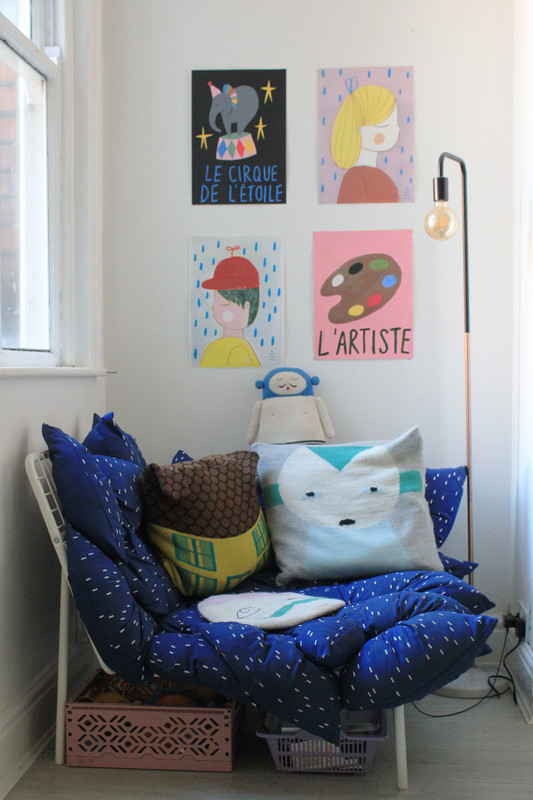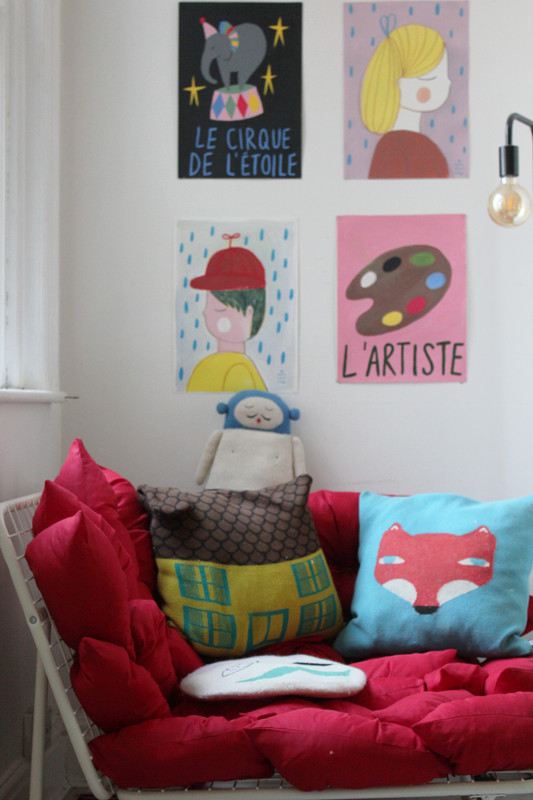 Our afternoon was spent painting and listening to David Walliams. Noah made some Climate Change posters and Manni painted a picture for Grandma, it's her 65th birthday today and we missed being able to have a birthday dinner with her to celebrate.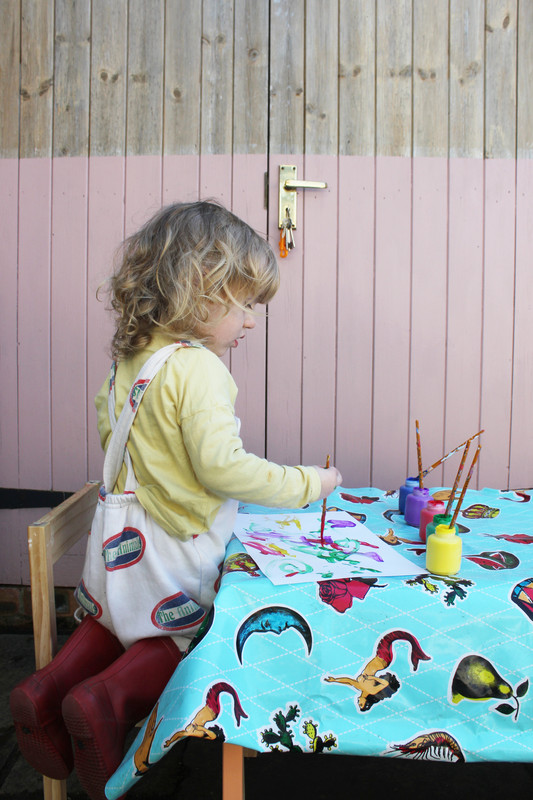 Oil cloth from Oklahoma Mcr : https://www.okla.co.uk/search?q=Oilcloth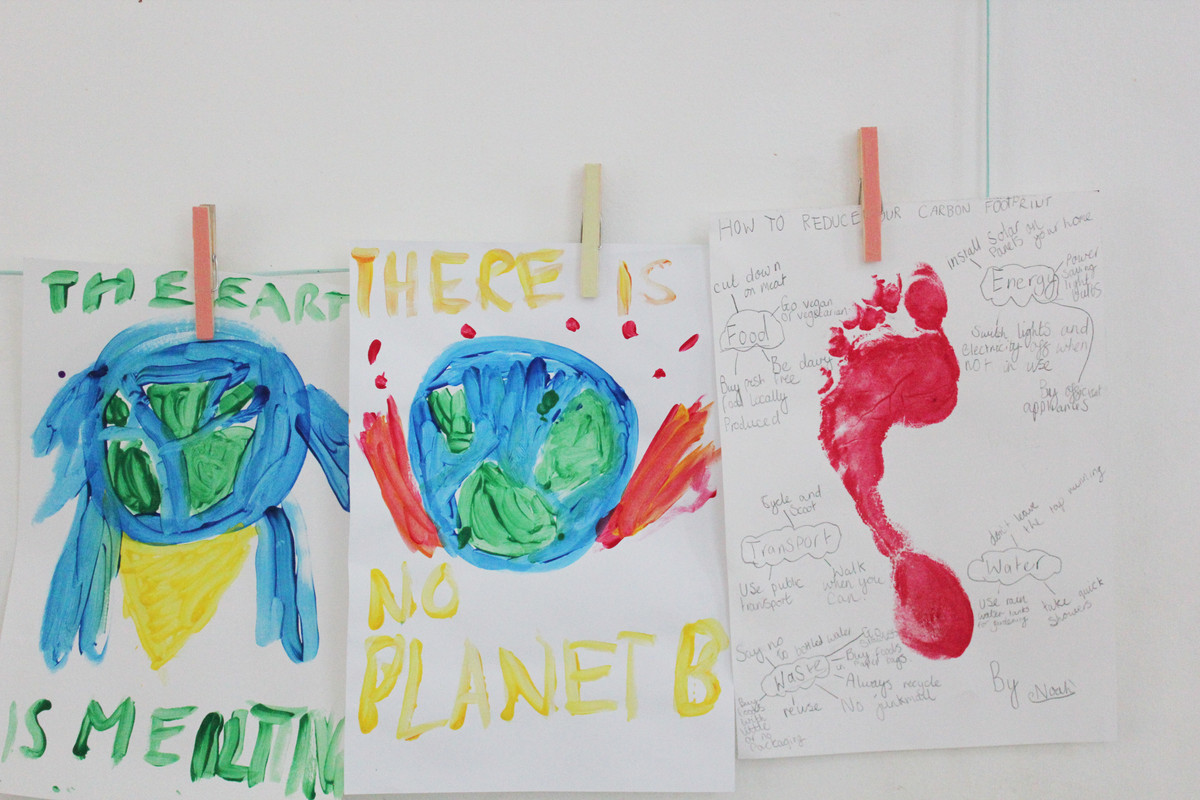 On a brighter note, I got Noah to help with the window cleaning. Teach em young!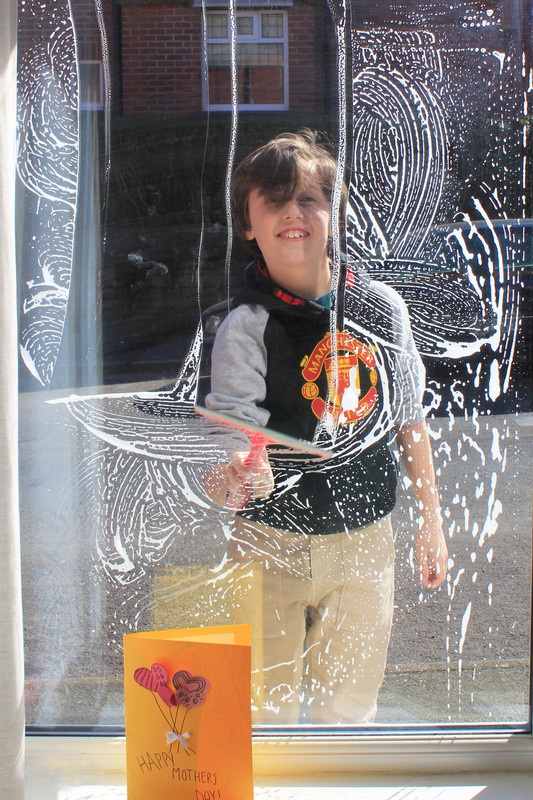 Day 3. Noah bounced out of bed this morning and continued making football Top Trumps, there are now 50 cards making it THE LONGEST GAME EVER. We tuned into David Walliams' free daily audio story https://soundcloud.com/harpercollinspublishers/the-worlds-worst-children-by/s-dqoZWNyMFFq which we would definitely recommend, Noah has read most of his books and like most kids, he can't get enough!

While Manni slept, Noah and I managed to make a crossword for each other surrounding today's little theme, Pokemon! It can be pretty hard to please both boys at once due to their eight year age gap so Noah and I sneak some of the grown up bits in when it's Manni's nap time.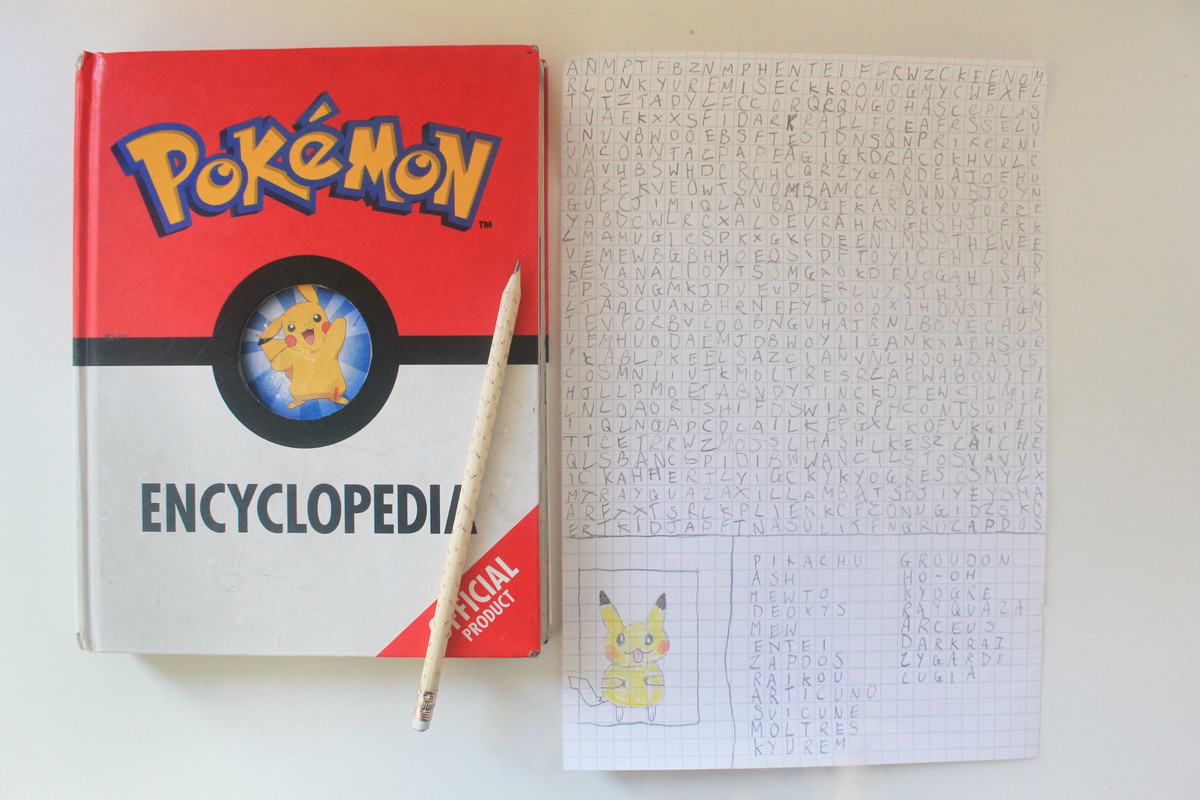 I decided we needed somewhere to hang up some of the boys recent artwork so I decorated a wall with some mint green cord and then customised some wooden pegs with Washi Tape.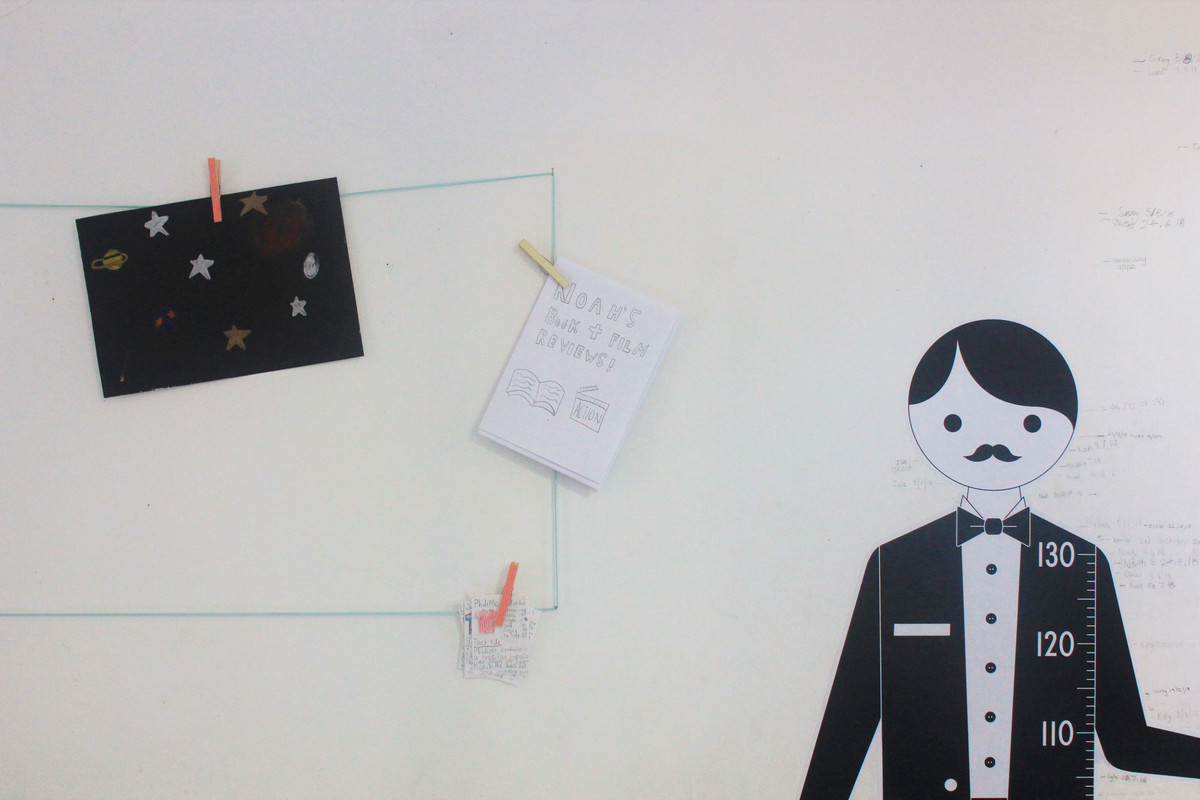 Today I had to work from home so the afternoon was spent in the garden which is in such a mess. I tried to persuade the boys to help with the gardening but they played with the ball instead. I don't blame them.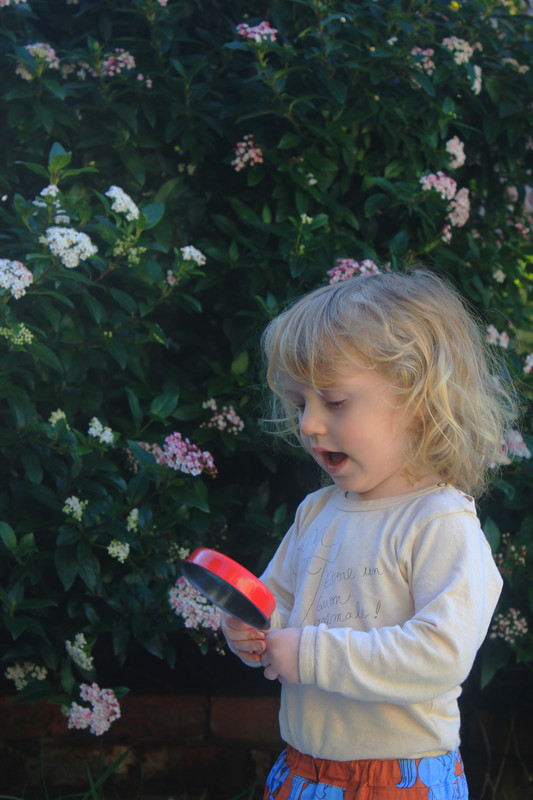 Day 2. Football theme! Today we tried a little exercise with The Body Coach, I had seen plenty of folks sharing his You Tube channel and decided to give it a go. Noah loved it! (Manni had a little go and enjoyed high fiving us after a few star jumps. Very cute.) We'll definitely be tuning in again!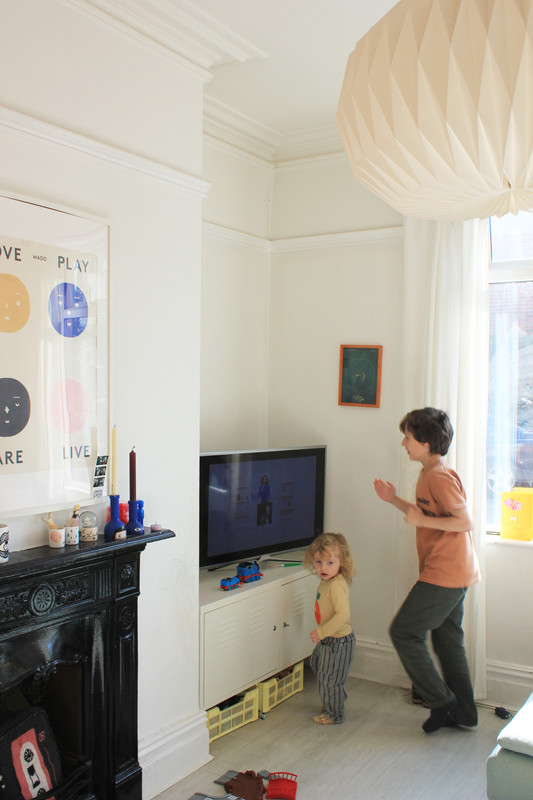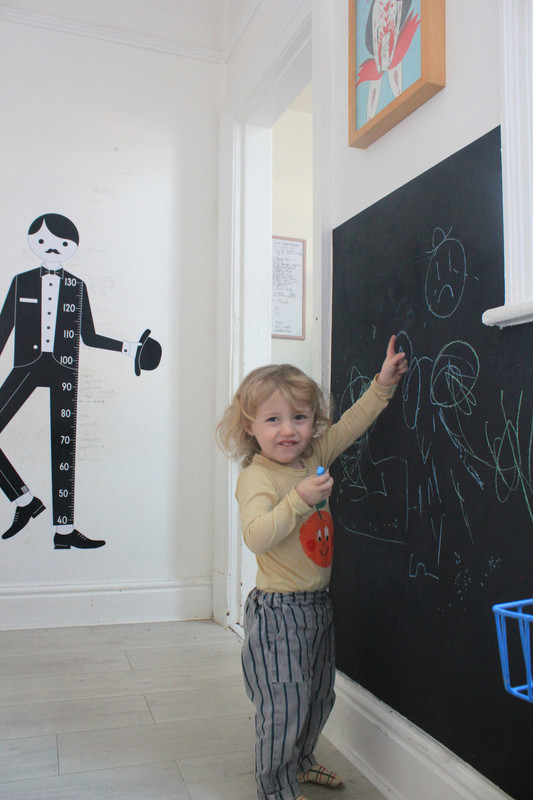 Going off government guidelines, our outdoor exercise consisted of a quick walk to the playing fields around the corner from our house. There was nobody around and it was nice to get a quick 20 minutes of fresh air.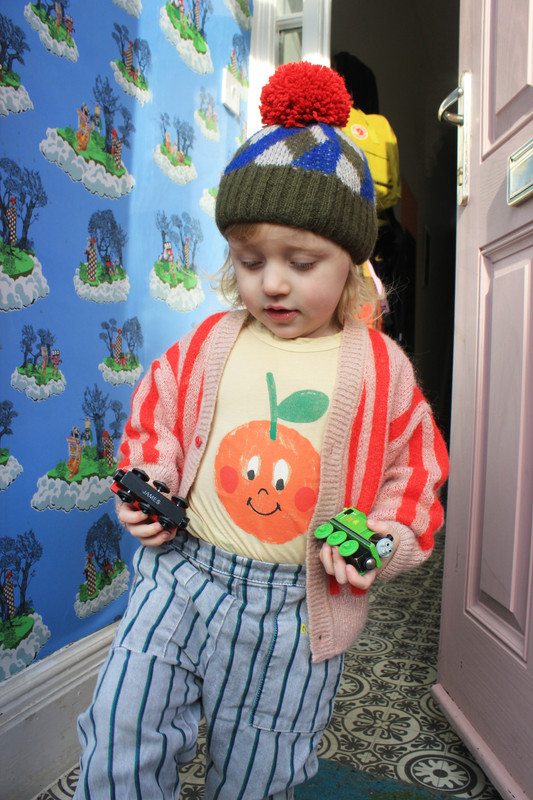 Once Manni was asleep, Noah and I made some Top Trumps! Football themed of course. This went on well into the afternoon and kept him very busy!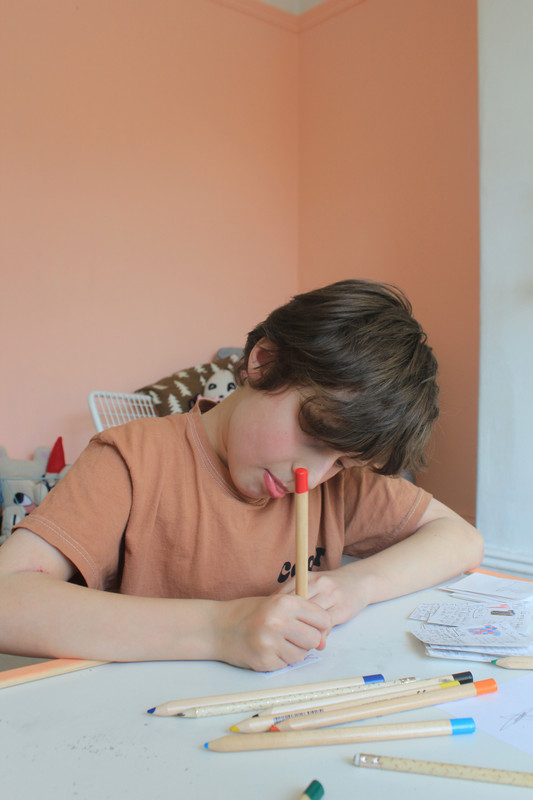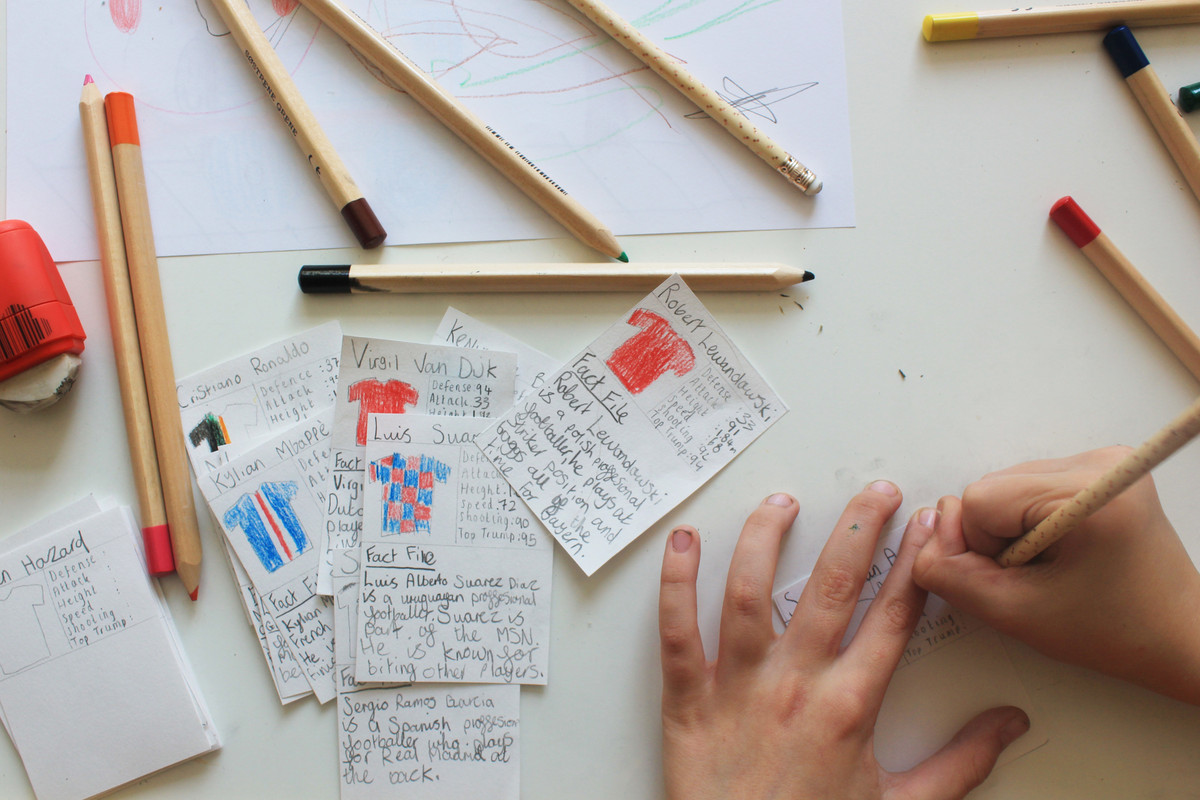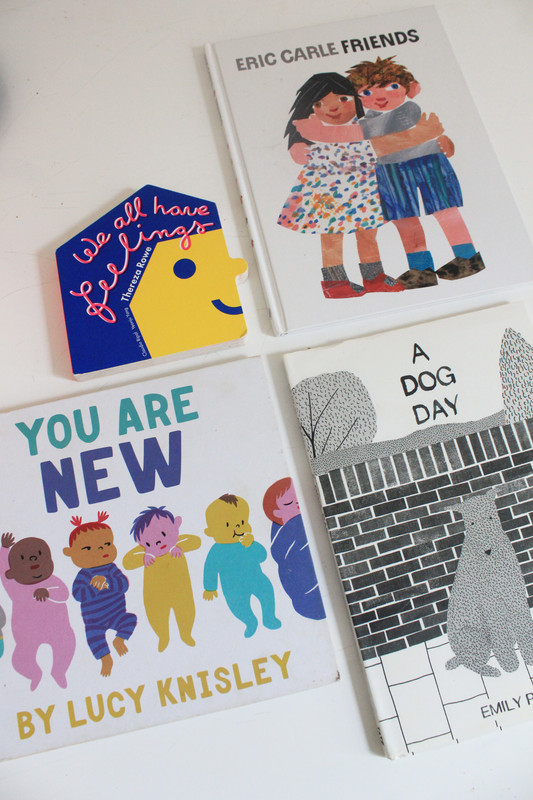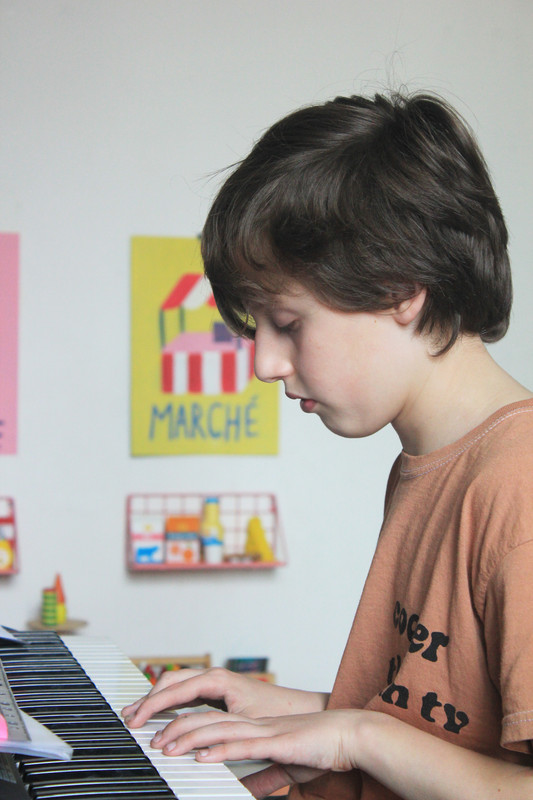 Not pictured : The ten cups of tea with sugar *must cut down* and the immense fallout over a small green bouncy ball that took a good five minutes to blow over.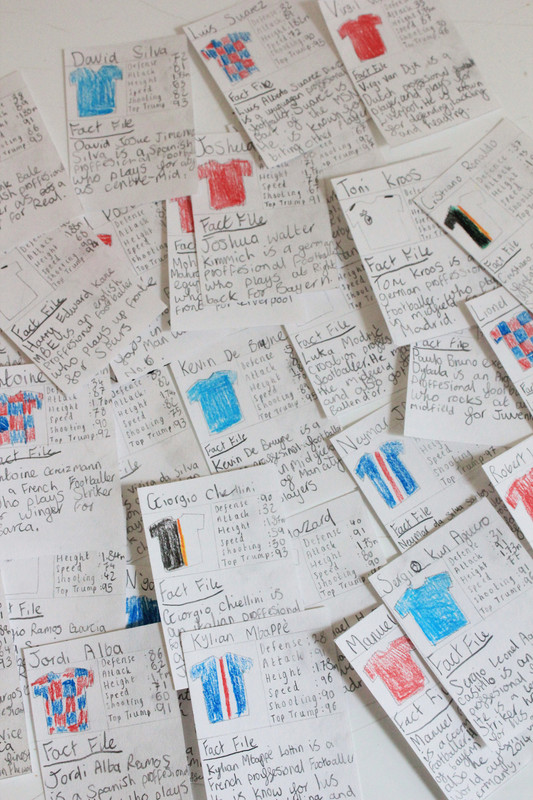 Day 1. Hey! I thought we would document our time indoors here, mostly as a creative outlet but also to share any ideas that I come across that might help fill the days with little ones. We don't have any grand plans, I just hope to get through each day with our sanity intact!! We have a list of themes that Noah chose and each day we'll use this theme to inspire a little play, maybe a little learning, a little creativity and hopefully have some fun along the way. Today's theme was SPACE! Bonus : Noah watched a documentary on Netflix called The Universe while Manni slept which meant that I could tick a job off the 'Things That Never Get Done' list, today's little job was to tidy the hallway. We also painted a chalkboard wall! Yay! Not pictured : Noah's meltdown at 7.30am. Manni kicking me numerous times.